Now, You should have a user created and activated in miniorange that matches your windows logon username. User can be added in miniOrange in two ways-


a) Create a new user manually from miniOrange admin portal matching windows logon username.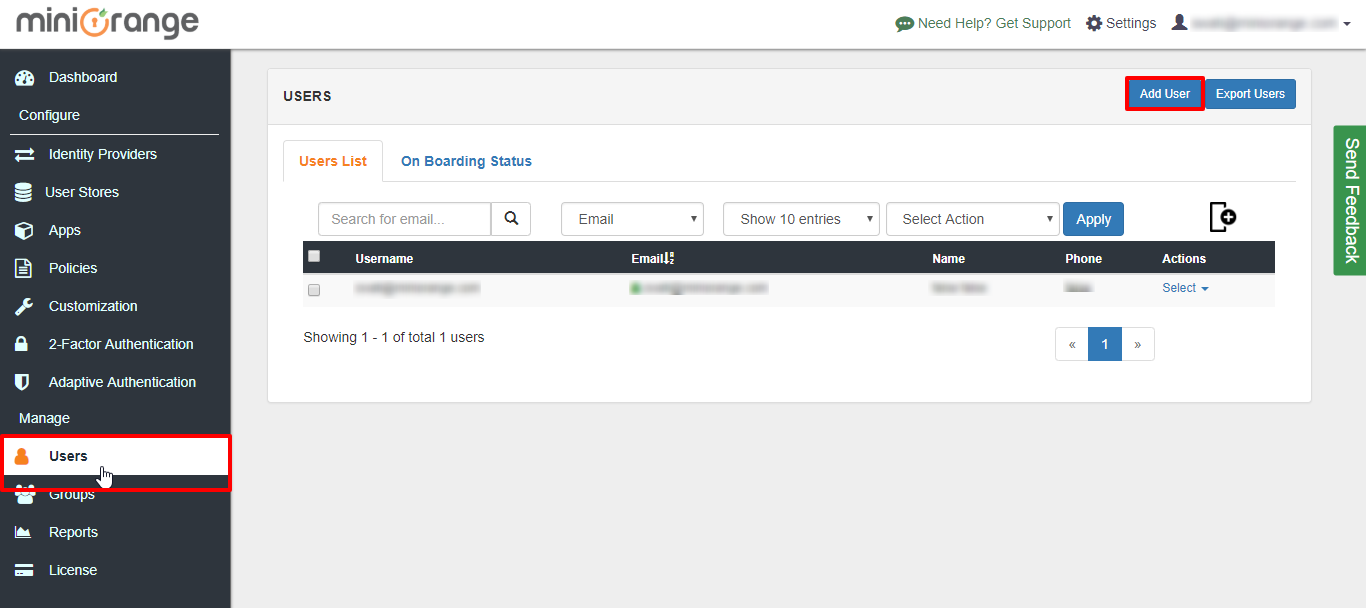 Here, fill the user details without the password and then click on the Create User button.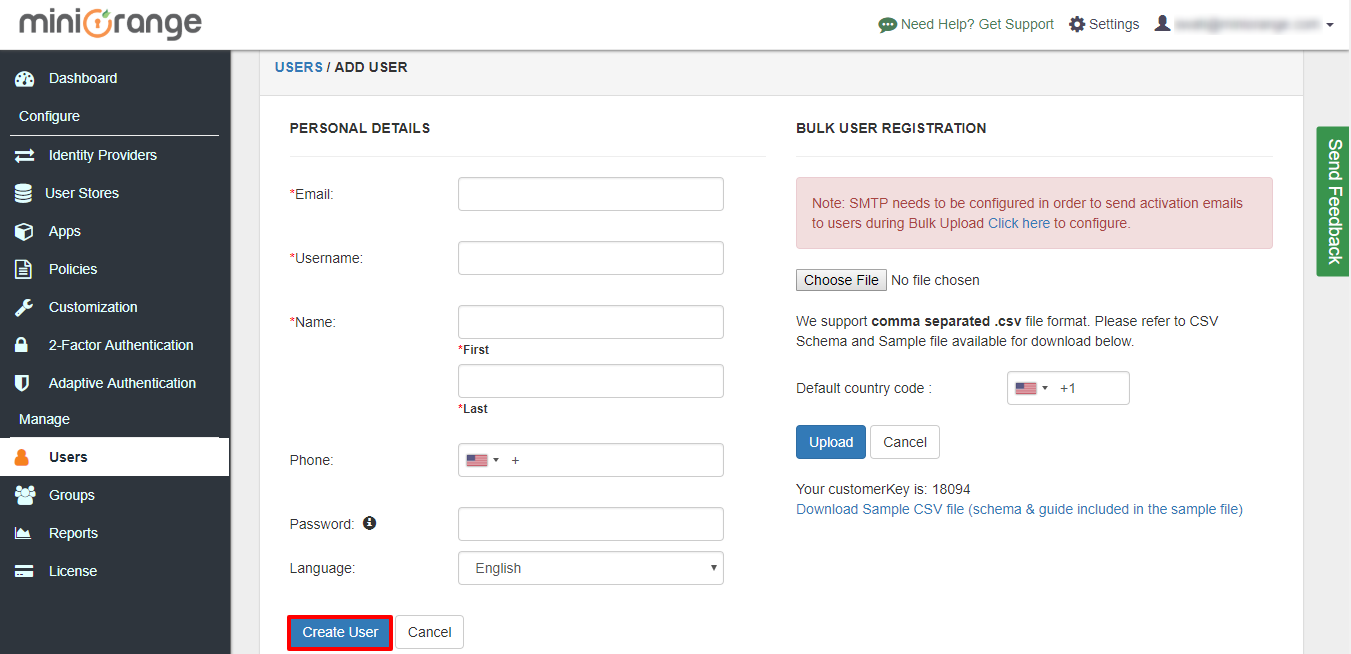 b) You can configure your AD connection in miniOrange admin portal and import your existing users from AD into miniOrange.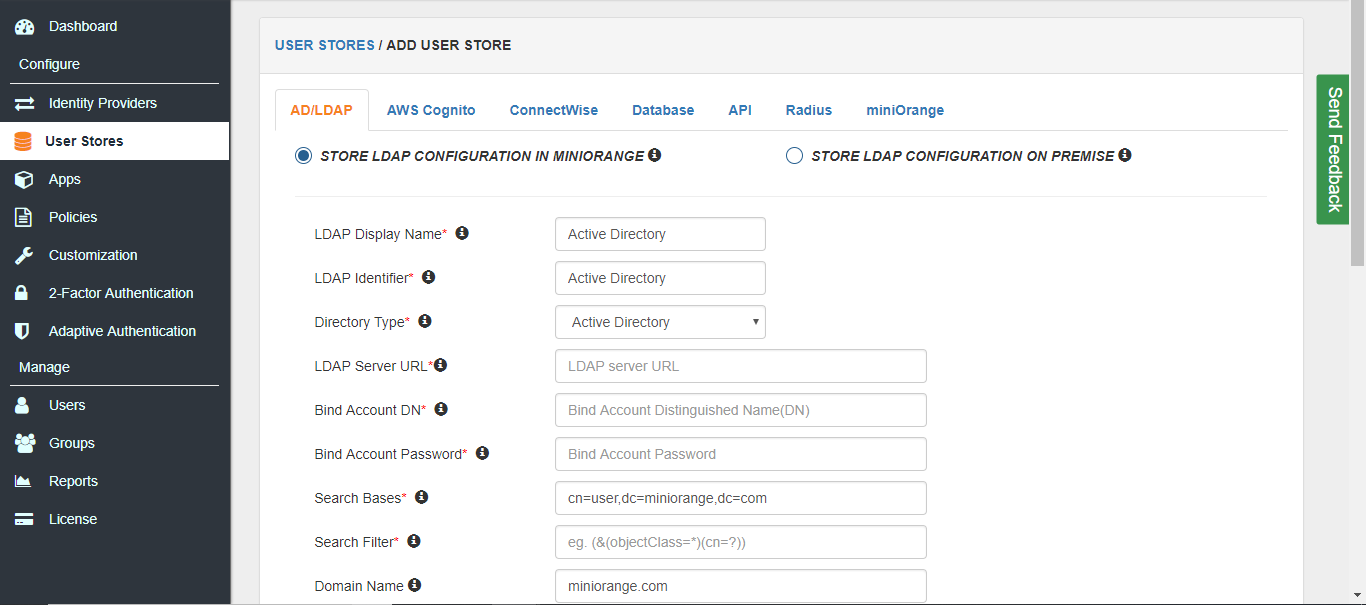 To test your setup, attempt to log in to your Windows PC as a user created in miniOrange matching your windows user. 2FA can be enabled in two ways-
1. Prompt for 2FA on the same page - Show the OTP textbox along with username and password on windows login screen. This way is preferable and more user friendly when you want to use only Google Authenticator, Soft Token (passcodes from miniOrange Authenticator App) or Hardware Tokens as your authentication methods for all users.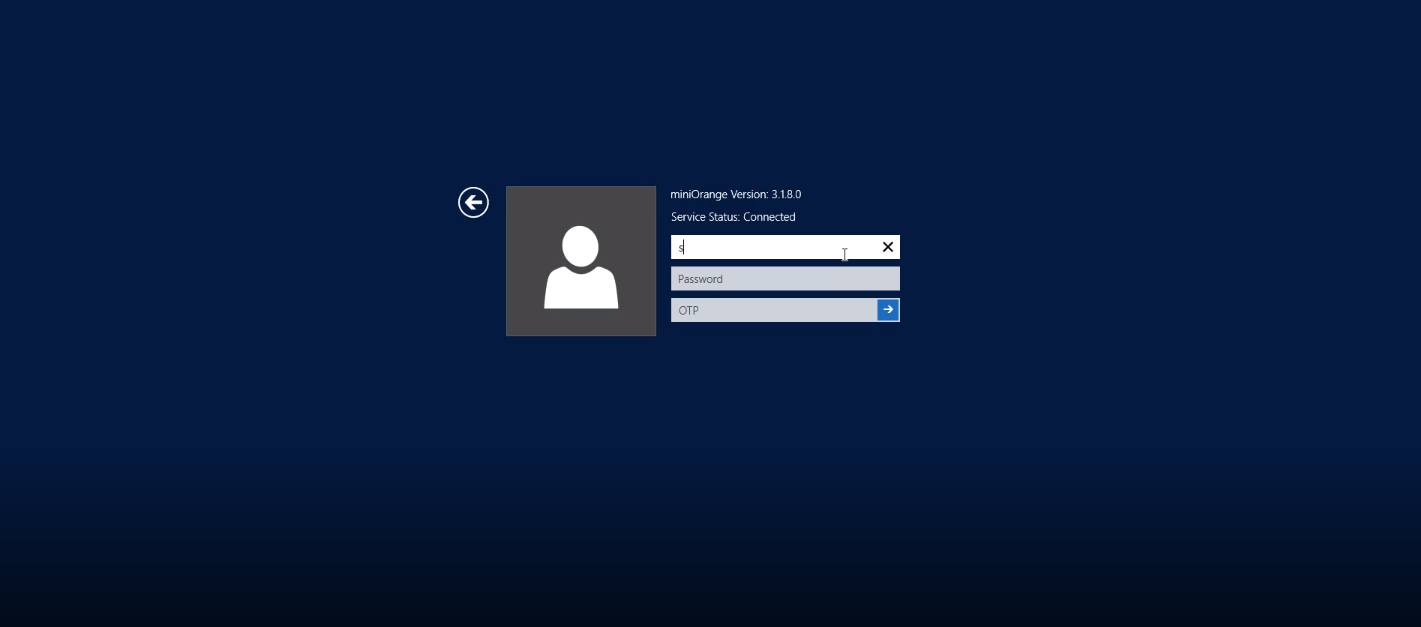 2. Prompt for 2FA Authentication Popup afterwards - Show the 2FA Method Selection Popup after submitting windows username and password on login screen.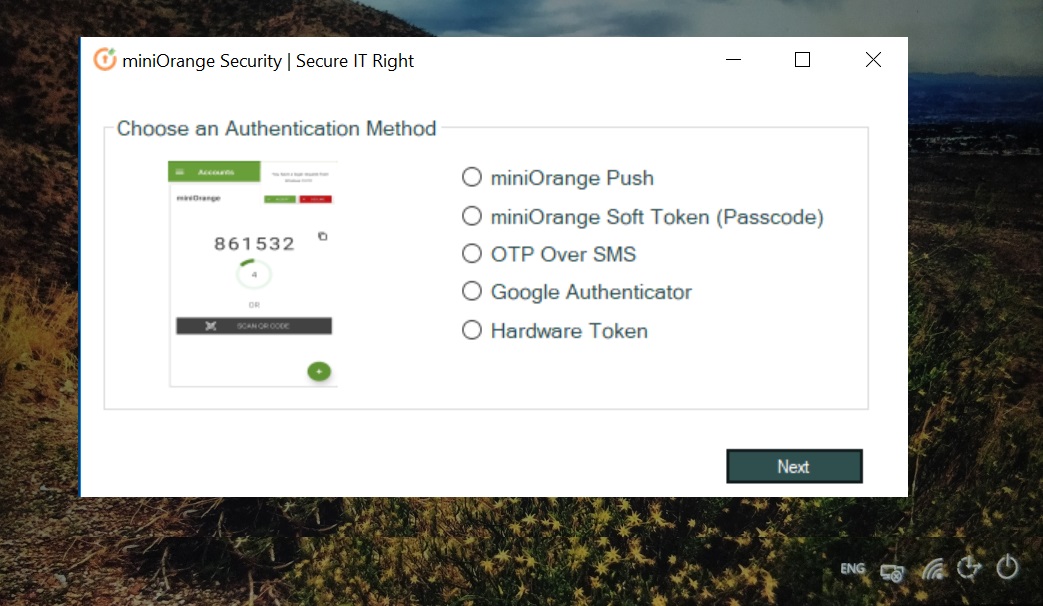 Select the 2FA method of your choice and enter the one time passcode or accept the push notification on your mobile app. We also support Offline Access which allows users to login to windows when they are unable to contact miniorange cloud service by using miniOrange softtoken (Authenticator App).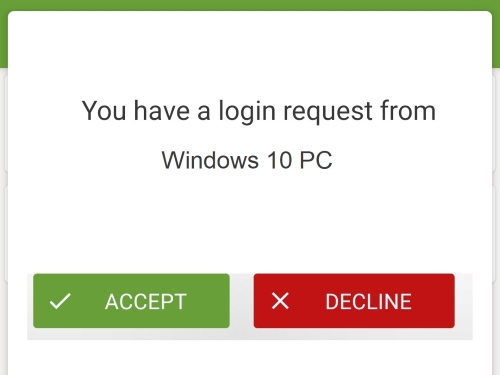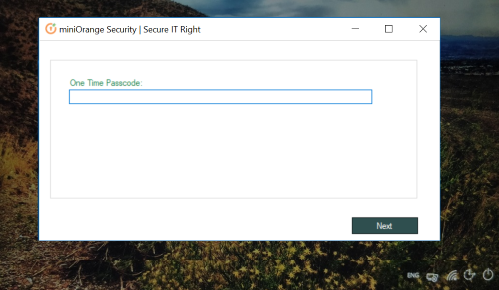 miniOrange MFA Credential Provider for Remote Desktop Service
​The user initiates the login to Remote Desktop Service either through a Remote Desktop Client or via the RD Web login page from his browser, after which the RADIUS request is sent from the miniOrange RD Web component installed on the target machine to the miniOrange RADIUS server, which authenticates the user via Local AD, and after successful authentication, 2-factor authentication of the user is invoked. After the user validates himself, he is granted access to the Remote Desktop Service.
A user can try to connect to RDS (Remote Desktop Services) via 2 ways :
RDC - Remote Desktop Client: If the RemoteApp is launched through a Remote Desktop client application, the users validate their 2-factor authentication while they enter the username and password to get access to the resources. ( as this method doesn't support access-challenge response, only out of band authentication methods are supported ).
RD Web Access - RD login page via browser: If the desktop or RemoteApp is launched through a RD Web Login page, the initial user authentication is done from the machine's AD, after which miniOrange challenges the user for 2-factor authentication via a RADIUS challenge request. After the users correctly authenticate themselves, they get connected to their resources.
2FA for RDS via RD Web
How it works
In this case, the user goes to RD Web login page from his browser to connect to the Remote Desktop Service.He enters his username and password, and on submission, the RADIUS request from RD Web component installed on target machine is sent to the miniOrange RADIUS server which authenticates the user via local AD in the target machine.
Once authenticated, it sends a RADIUS challenge to RD Web, and the RD Web shows OTP screen on browser now. Once the user enters the One Time Passcode, the miniorange IdP verifies it and grants/denies access to the RDS.
With this, after the user is connected to the Remote Desktop Service, the user can also gain access to published remote app icons on his browser screen, since the session has already been created for the user.
Steps to configure 2FA for RD Web
1. Install the RD Web module provided by us. Unzip the module anywhere on your pc. C:/ for example.
2. Take a backup copy of your C:/Windows/Web/RdWeb folder.
3. Then open the RD Web module provided by us. Execute install.bat file. Once it is installed.
4. Go to IIS Manager, Open Default Site -> Rd Web ->Pages.
5. Open application settings, Change Radius Server IP and secret of IDP. Once that is configured.
Demonstration of user flow
1. User goes to the RD Web login page from his browser, and enters his username/password and clicks on Submit.