HR Answerlink Single Sign On (SSO)
HR AnswerLink is a tool that can help enterprise users to support current HR department or can be a complete human resources solution. The main products of HR AnswerLink are HR Support Center and HR Pro Support. User needs to register on HR Answerlink website in order to use its services. Sometimes user has multiple applications (like Wordpress) and it is desired to login using single log in credentials. miniOrange provides solution of using single sign on to log in into HR support, for example here Wordpress credentials are used to login into HR Support. This eliminates the need to maintain number of user names and passwords.
API integration is the solution offered by miniOrange, where user can single sign on into HR Answerlink if user is already logged in into wordpress.
Even Webhooks can be configured to send notifications to all your applications to intimate that event has occured in HR support which includes user creation, user data updation and so on. This saves efforts to manage HR support users in your other application (like wordpress) with miniOrange plugin. Thus HR support centre changes will be reflected into Wordpress in real time.
How miniOrange API integration can work for HR Answerlink?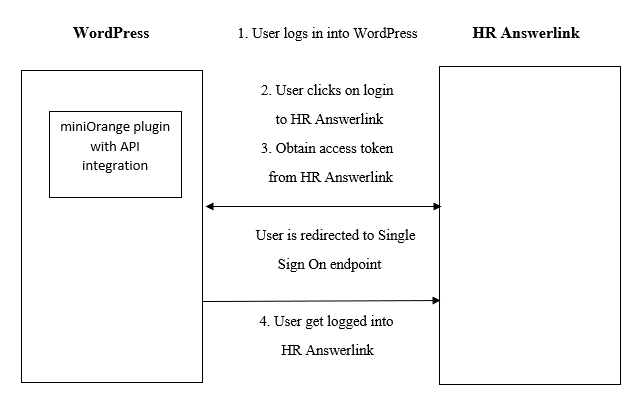 Follow the step by step guide to integrate HRAnswerlink in WordPress
Step 1: Register an application
Contact HRAnswerLink to register your application. They will provide you with a unique identifier (UID) and secret key that are associated with your application. The UID and secret key will be your primary means of authentication via SSO.
Step 2: Configure the plugin
Login with miniOrange account.
Select Application type "Other" from dropdown.



Add configuration below.



| | |
| --- | --- |
| Custom App Name | HR Support Center |
| Client Id | <UID received from HR in step 1> |
| Client Secret | <Client Secret received from HR in step 1> |
| Scope | /app |
| Authorize Endpoint | https://<your-domain>.myhrsupportcenter.com/oauth/token |
| Access Token Endpoint | https://<your-domain>.myhrsupportcenter.com/sso/v2/tokens?user_id= |
| Get User Info Endpoint | https://<your-domain>.myhrsupportcenter.com/sso/v2/sessions |
Step 3:Update HR users user ID in WordPress.
Go to Users > All Users in WP dashboard
Click on Edit user
Update HR user ID for the user.




For new HR users which will be created in future, we can extend HR webhook to auto update User ID in wordpress.
Step 4: Insert link on website.
Go to Appearance > Widgets.
Add miniOrange OAuth widget to the section where you want to show HR login button.
Login with WordPress user and click button Login to HR Support Center