2. Licensing Plans for everyone
The plugin which you will download from here is free version. Check the verious plans available for different features below:
Plans for everyone:
3. Features and Installation Guide
3.1 Features :-
Login to any SAML 2.0 compliant Service Provider using your Joomla site.
Easily configure the Identity Provider by providing just the Issuer, ACS URL and NameID format.
Make user login more secure by signing and encrypting response to Service Provider.[PREMIUM]
Easily integrate the login link from your Joomla site using link for IdP initiated SSO. Just add it in a desirable place in your site.[PREMIUM]
Use the Attribute Mapping feature to map Joomla user profile attributes to your SP attributes.[PREMIUM]
Use the Role Mapping feature to send roles assigned to users from your Joomla site to your Service Provider.[PREMIUM]
Supports multiple Service Providers from the same Joomla instance.[PREMIUM]
3.2 Installation Guide :-
Step 1: Installing the plugin.
Login as administrator in Joomla.
Go to Extensions->Manage->Install

The Extension Manager is used to install extensions in Joomla. Here you have three options to choose from to install your extension. In most cases, you should go with the first option. The three options are:
Upload Package File
Install from Directory
Install from URL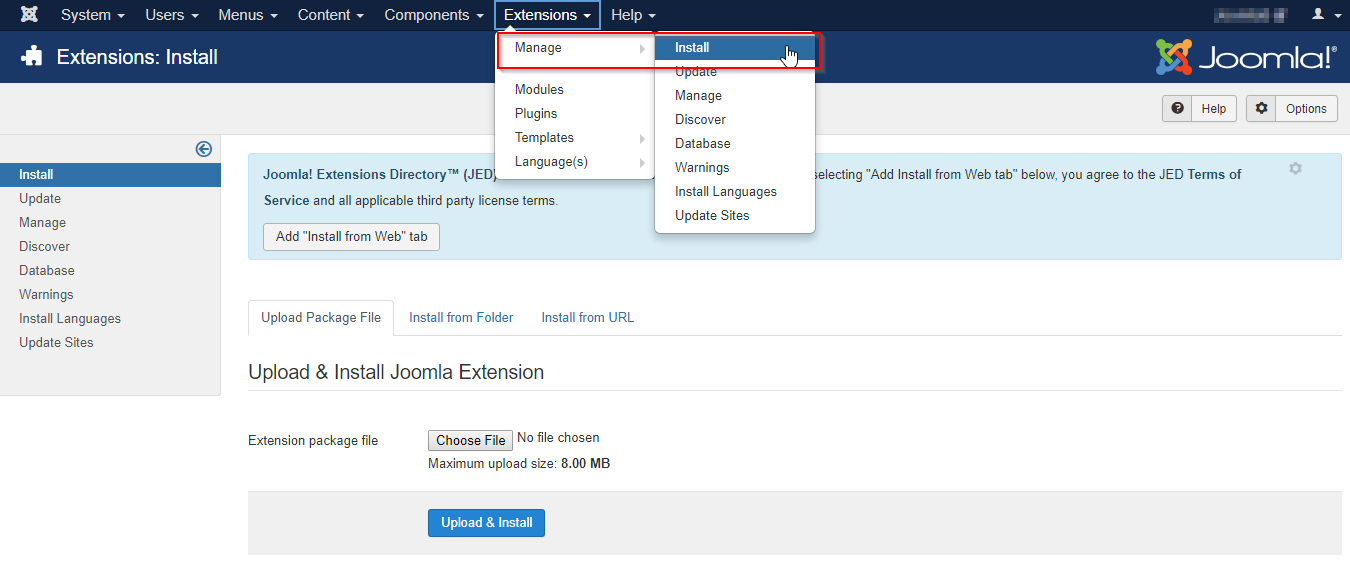 Choose miniOrange Joomla plugin IDP file to install.
Install the plugin.
Step 2: Register/Login into miniOrange account.
In Account Setup tab, under 'Register with miniOrange', enter your email id and password to create an account.

If an account already exists, you will be asked to login into your account.
Step 3: Configuring the plugin.
In the Joomla admin interface, go to Extensions->Manage->Manage.

Here you can enable and disable Joomla plugins and edit plugin details and options. It is also useful for quickly enabling or disabling multiple plugins at the same time.

Search for miniorange in plugins.
Enable all the extensions of the plugin.
Go to Components->miniOrange Joomla IDP.
In the Identity Provider tab, collect the information given there to configure your Service Provider.
In the Service Provider tab, Click on 'New' and configure your Service Provider settings (SP Entity ID, ACS URL, NameID Format)
In the Attribute/Role Mapping, select the NameId attribute.
Click on the Save button on the top left.
Now you can test your configurations by clicking on Test Configuration button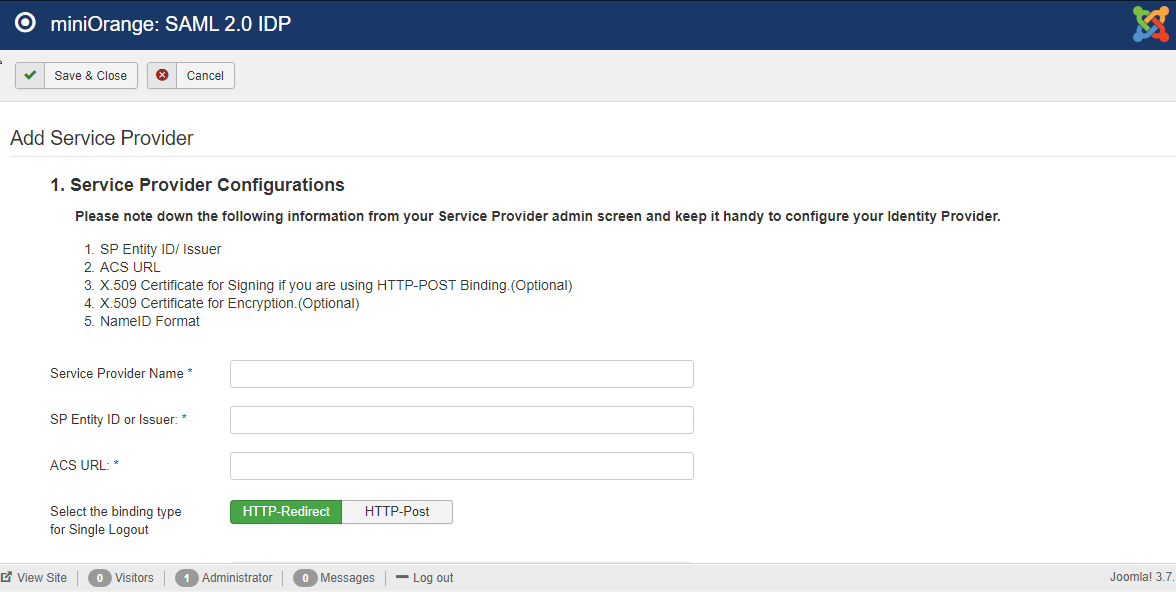 If you didn't find what you were looking for, then please contact us at
info@miniorange.com
or call us at +1 978 658 9387.