Note : The information contained on this page does not create a joint venture, partnership, agency or other form of association, or an express or implied license grant by either party to the other under any patent, trademark, copyright, trade secret or other intellectual property right.
LDAP/Active Directory Login Plugin provides login to Joomla site using credentials stored in your LDAP Server. It allows users to authenticate against various LDAP implementations like Microsoft Active Directory, OpenLDAP and other directory systems. User information is in sync with the information in LDAP.
1. Download the plugin by clicking the link below
2. Licensing Plans for everyone
The plugin which you will download from here is free version. Check the verious plans available for different features below: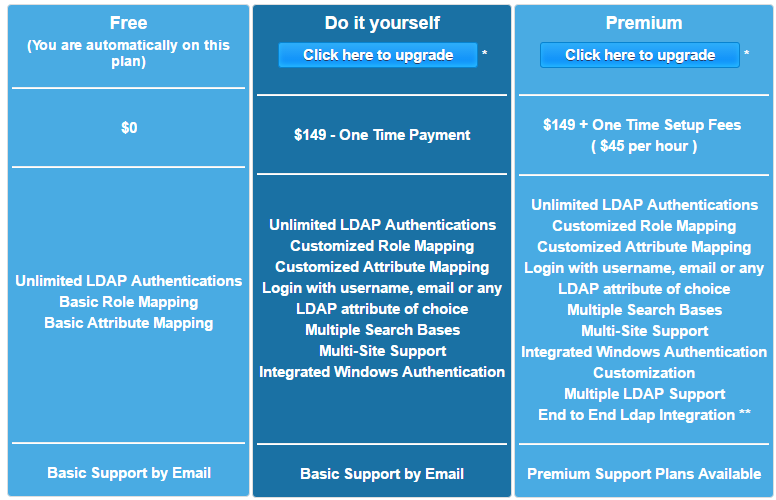 3. Features and Installation Guide
3.1 Features :-
Login to Joomla using your LDAP credentials.
Automatic user registration after login if the user is not already registered with your site.
Keep user profile information in sync with LDAP.
Uses LDAP or LDAPS for secure connection to your LDAP Server.
Fallback to local password in case LDAP is unreacheable.
Can authenticate users against multiple search bases. [PREMIUM]
Can authenticate users against multiple user attributes like uid, cn, mail, sAMAccountName. [PREMIUM]
Test connection to your LDAP server.
Test authentication using credentials stored in your LDAP server.
Ability to test against demo LDAP server and demo credentials.
No need for a public IP address or FQDN for your LDAP.
Will get support if you contact miniOrange at info@xecurify.com.
3.2 Installation Guide :-
Step 1: Installing the plugin.
Login as administrator in Joomla.
Click on Extension Manager under Extensions.

The Extension Manager is used to install extensions in Joomla. Here you have three options to choose from to install your extension. In most cases, you should go with the first option. The three options are:
Upload Package File
Install from Directory
Install from URL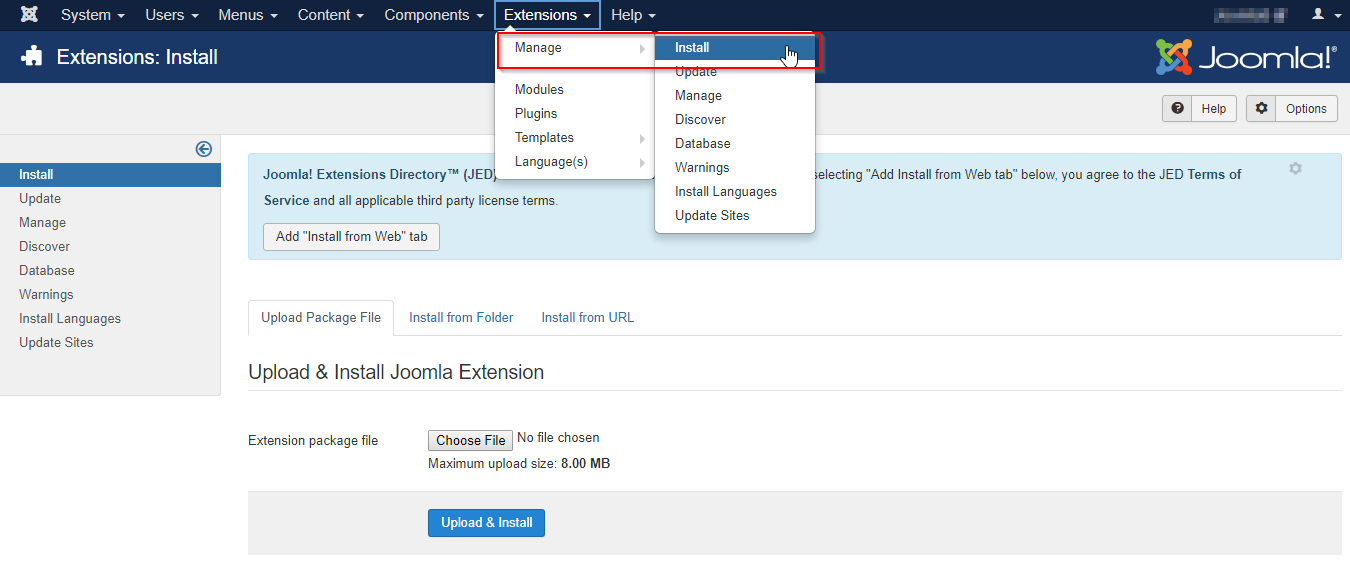 Choose miniOrange Joomla LDAP plugin file to install (i.e. miniorange-joomla-ldap-intranet.zip).
Install the plugin.
Step 2: Configuring the plugin.
In the Joomla admin interface, click on Plugins under Extensions.

The Plugin Manager allows you to enable and disable Joomla plugins and to edit plugin details and options. It is also useful for quickly enabling or disabling multiple plugins at the same time.




Search for miniorange in plugins.
Enable the plugin ( Authentication - miniOrange LDAP)
In the top menu, click on Components menu and select miniOrange LDAP Intranet item as shown in the screenshot below. Create your account to enable LDAP configurations. It is easy to fill out small registration process and it is carried out so that we can provide you support whenever you want.



Now you can configure your LDAP configuration under LDAP Configuration tab.
You can click on Test Configurations button to check the configurations.
The various tabs and features are:



You can upgrade to premium version of the plugin by clicking on 'Click here to upgrade' button given under Licensing Plans tab.
If you didn't find what you were looking for, then please contact us at
info@xecurify.com
or call us at +1 978 658 9387.
We offer Security Solutions of Single Sign-On, Two Factor Authentication, Fraud Prevention and much more.
Please call us at +1978 658 9387 (US), +91 77966 99612 (India) or email us at info@xecurify.com