About Shibboleth
Shibboleth is a standards based, open source software for web single sign-on across or within organizational boundaries. It allows sites to make informed authorization decisions for individual access of protected online resources in a privacy-preserving manner.
Challenge
Shibboleth supports SSO via many federation identity authentication protocols but it does not support some of the protocols like Open ID Connect, OAuth 2.0, WS-FED etc. The lack of admin interface makes it hard to configure and deploy SSO for anyone who doesn't have technical knowledge about shibboleth. Every day a new cloud app is emerging for different user need. These days companies need to single sign-on into a variety of apps for their organizational needs. For this we need to support protocols like OAuth 2.0, OpenID Connect, WS-FED, etc for federated authentication and authorization.
Solution
miniOrange provides a ready to use solution by configuring miniOrange server between your application and Shibboleth which supports Single Sign-On, User Management, Multifactor authentication, IP Restriction and many more solution for multiple web and mobile applications.
Lets take a case of a educational organization. They have their own website which is accessed by students from different parts of world. Students are offered scolarships on basis of which students are awarded travelling facility by air. Apppication like StudentsUniverse may be used for awarding discounts to students. A student may login using college account to book tickets. This can be achieved by using OAuth authentication and using Shibboleth to provide identity credentials.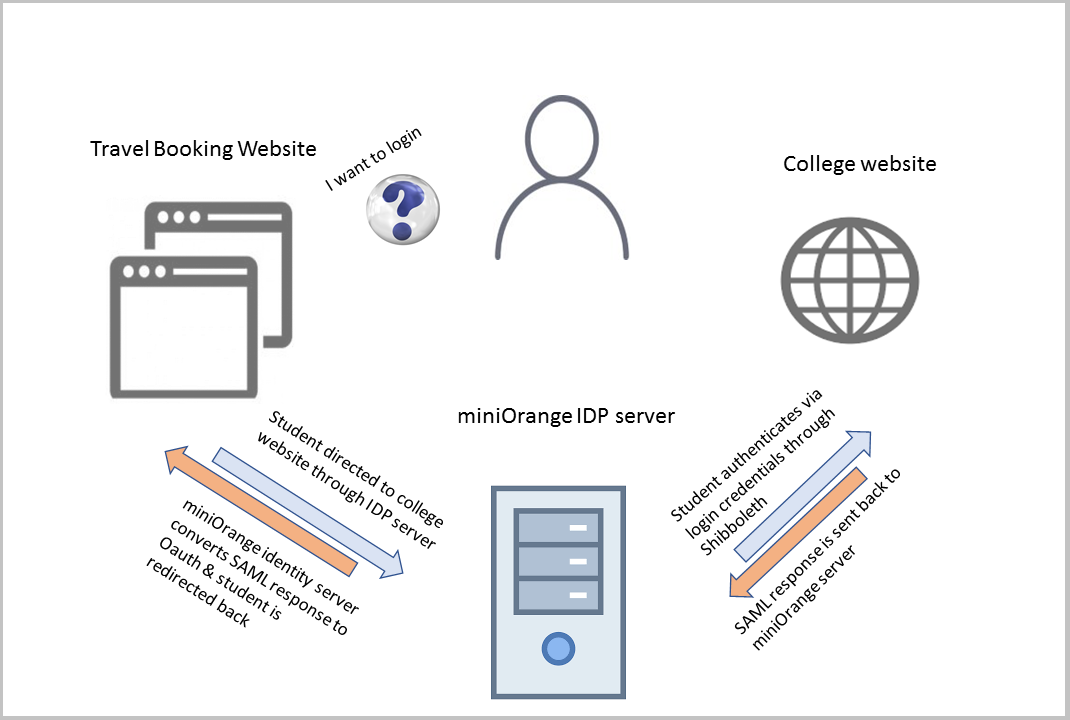 Advantages of using miniOrange Server with Shibboleth IDP:
Easy to Install:
miniOrange Server can be deployed with Shibboleth SAML IDP within minutes.
Easy to Use:
You can configure sso for any kind of apps whether it supports OAuth2/OpenID Connect/WS-FED or does not support any standard protocols. You can also manage shibboleth users/groups via proper admin interface in miniOrange server.
Cross Protocol Support:
When a user sso into any app via miniOrange Server, they receive an SSO session for all other apps that rely on miniOrange for login, regardless of protocol. This ensures a seamless SSO experience across SAML and OAuth2/OpenID Connect/ WS-FED applications.
Support for Customization:
You can add MFA, IP Restriction, Risk Based Access and Social Login on top of Single Sign-On easily.