Table of Contents
Single Sign-On Overview
miniOrange Single Sign-On (SSO) removes the need to repeatedly type usernames and passwords, which increases productivity and prevents many types of online fraud that is caused by using same or similar passwords across apps, tying in passwords in un-safe environments, password sharing etc. By enabling users to quickly and securely access applications, they can spend less time with technology and more time with their work.
Enterprise users regularly need to remember eight or more application passwords. Security best practices require those passwords be unique, strong and frequently changed. It's no wonder enterprise users write them down, stick them to the monitor or just forget them.
miniOrange Single Sign-On (SSO) addresses these challenges by significantly reducing clicks and eliminating the need to remember or enter application usernames and passwords. Proven in enterprise environments around the world, miniOrange Single Sign-On can be used with all types of applications, saving enterprise users 15 minutes every shift, improving satisfaction levels and driving adoption.
Optimized workflows enable faster access to information and enhanced delivery. Passwords become centrally managed, simplifying HIPAA and HITECH compliance without impacting enterprise users or IT staff.
Back to top
Creating a free Single Sign-On trial account
Create a free Single Sign-On Trial account with miniOrange.
Navigate to Free Trial Page
Enter Email Address, Cellphone Number, First Name, Last Name and Company Name. Select Single Sign-On as Area of Interest.
Click on Sign up Now.
Account details will be sent to the registered Email address.
Back to top
miniOrange Single Sign-On Admin Dashboard Overview
How to add users?
You can add users to our system in two ways-
Go to the Users/Groups tab -> Manage Users/Groups in Admin Console and click on Add User button to create a new user.




Download sample csv format from our console and edit this csv file according to it and upload it in our console via Bulk Upload.
After uploading the csv file successfully, you will see a success message with a link.
Click on that link you will see list of users to send activation mail. Select users to send activation mail and click on Send Activation Mail. An activation mail will be sent to the selected users.



How to see the Onboarding Status?
To see Onboarding Status go to Users/Groups tab -> Manage Users/Groups and click on On Boarding Status. Here you can see a pie chart, showing the status of user on-boarded.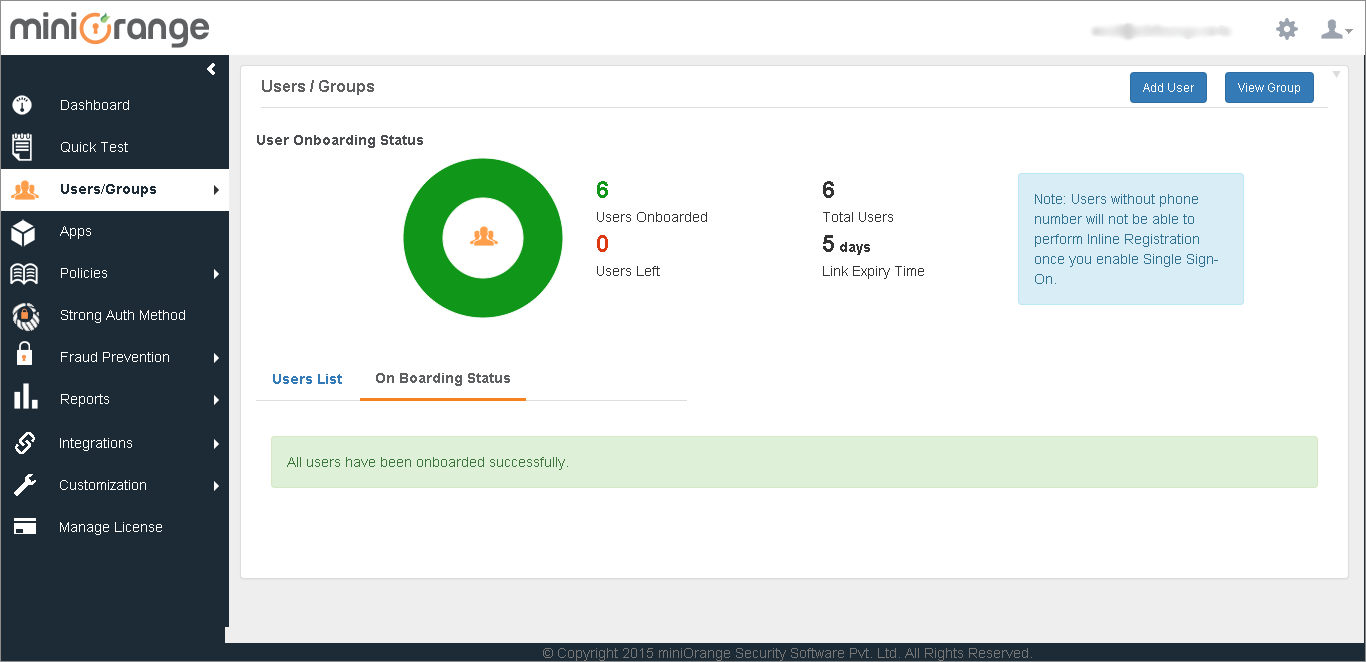 How to unlock, locked users?
To unlock, the locked users go to the Users/Groups tab and select View Locked Users. Click on Enable to unlock the user.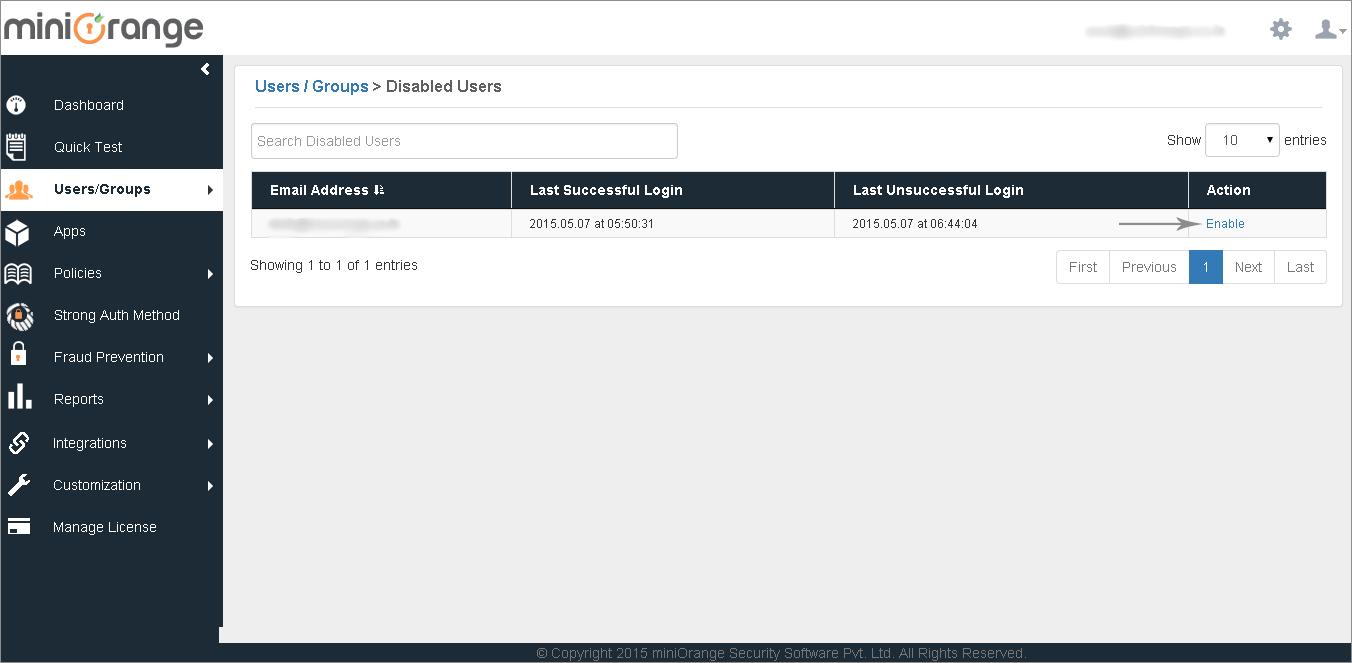 How to manage groups?
To manage groups navigate through Users/Groups tab -> Manage Users/Groups
Click on View Group button on the right side.
To add a new group click on Create Group. Enter a name of your choice and click on Create Group to add group.
You can delete a group by clicking on Delete button.
To Add and Remove users from a group click on Manage button and follow the steps:

Users not in the group will show up in the left box.
To add a user, click on Add button or click on Add All to add all users in the group.
You can remove a user from right box, by clicking on Remove to remove single user or click on Remove All to remove all users from a group.
How to manage roles?
You can configure admin roles of endusers.
To manage roles navigate through Users/Groups tab -> Manage Roles

To configure role of an Enduser click on Add to add the enduser as Administrator.
You can also remove Administrator privilege by clicking on Remove button.


How to manage shared identities?
To add a shared identity follow the step below:
Go to the Users/Groups Tab and select Manage Shared Identity
You can add an associated user to an enduser by clicking on add under Add Shared Identity Tab
To view shared identity navigate to View Shared Identity, you can click on Edit to edit Shared Identity.



How to manage apps?
Under Apps tab in Admin Console you can view the Apps and configure new SAML and Browser Plugin Apps.
Under View Apps tab you can see all details of Applications, edit them, delete them etc.
A new App can be configured by clicking on the Configure Apps button.
While configuring an app, you need to provide details depending on the type of app.
For SAML Apps, you need to provide ACS(Assertion Consumer Service) URL and also a set of attributes if necessary.
For Browser Plugin Apps, you need to provide a set of credentials or multiple sets of credentials for Individual Login and Shared Login respectively.
How to manage policies?
You can manage policies by adding a new policy and view the existing policies in Policies tab.
To add a policy go to Policies tab and select App authentication policy and then click on Add policy tab.
Select Application name from the dropdown.
Select a Group Name from dropdown - the group for which you want to add policy.
Give a policy name in Policy Name field.
Click on Save button to add policy.
You can view policy, under View Policy tab of Policies->App authentication policy
How to see users and policy mappings?
To see users and policy mappings, go to the Policies -> User Policy Mapping, select the Application and enter the username, see the policies mapped against the username typed in Username field.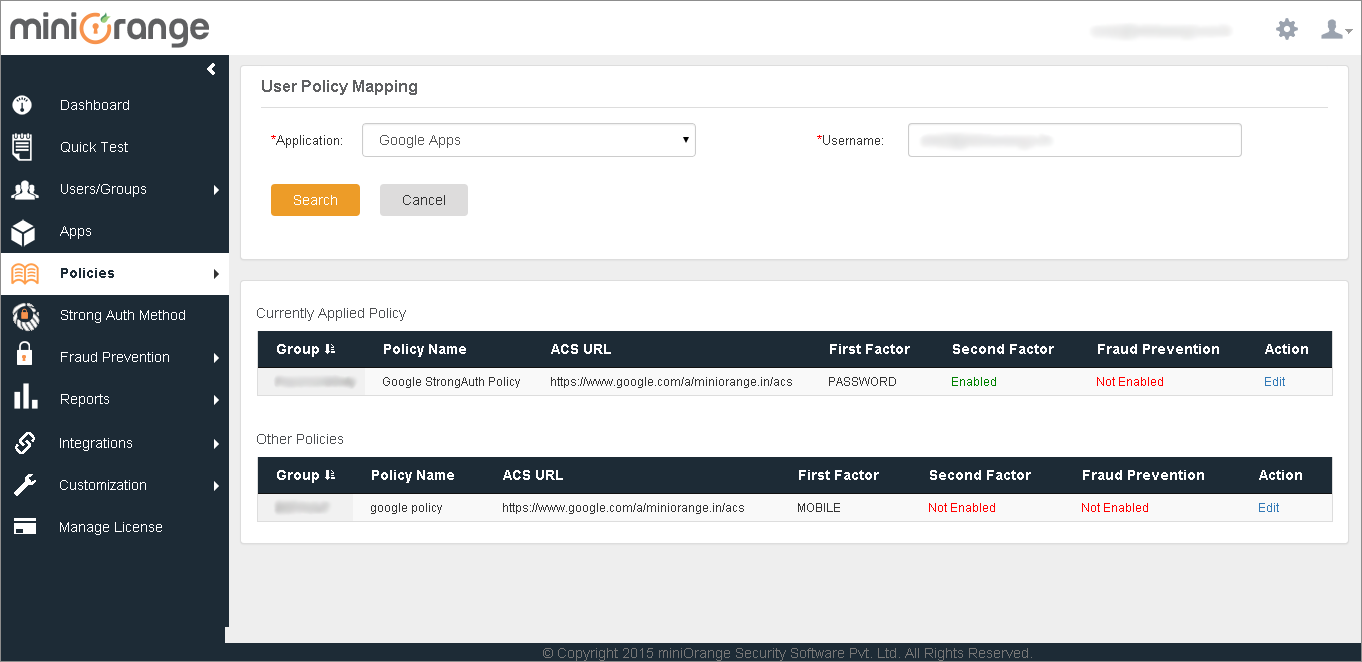 How to integrate with any custom application?
To integrate with any custom application you can refer to Custom App Integration under Integration tab, follow the integration guide there to integrate any custom application.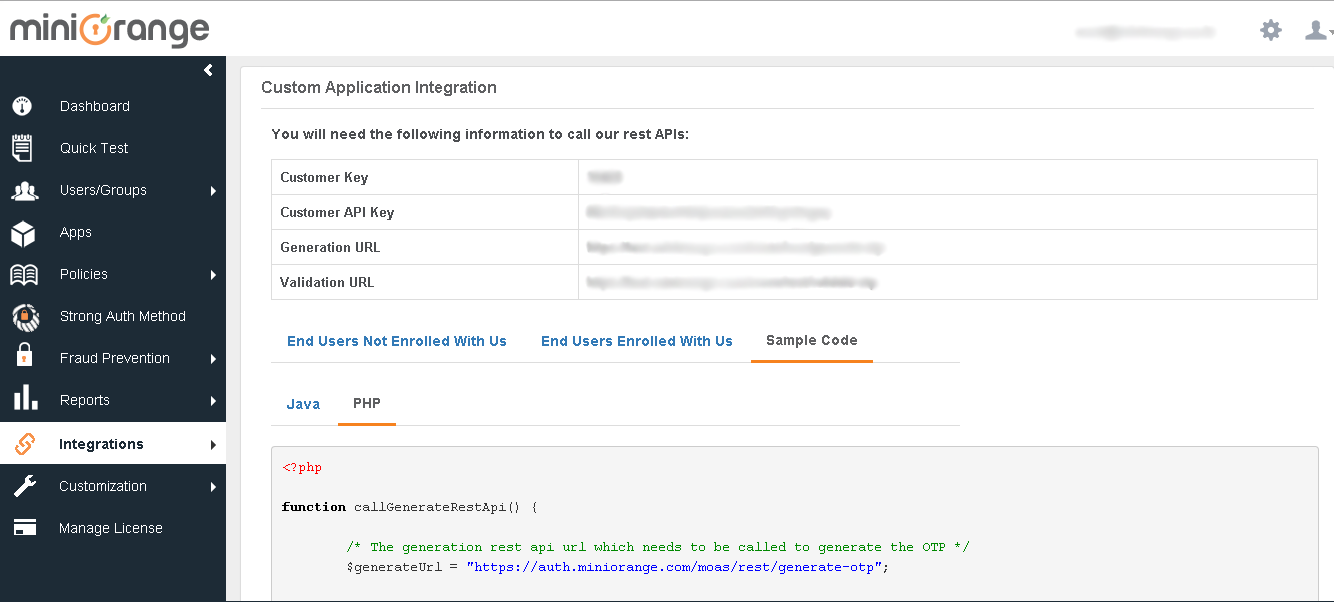 How to deploy pre-integrated applications?
To deploy any pre integrated applications, please select any of the pre integrated apps (viz. Google Apps, Salesforce) from the Integration tab dropdown. Follow the integration guide to integrate the apps, diagram below depicts Google Apps Integration.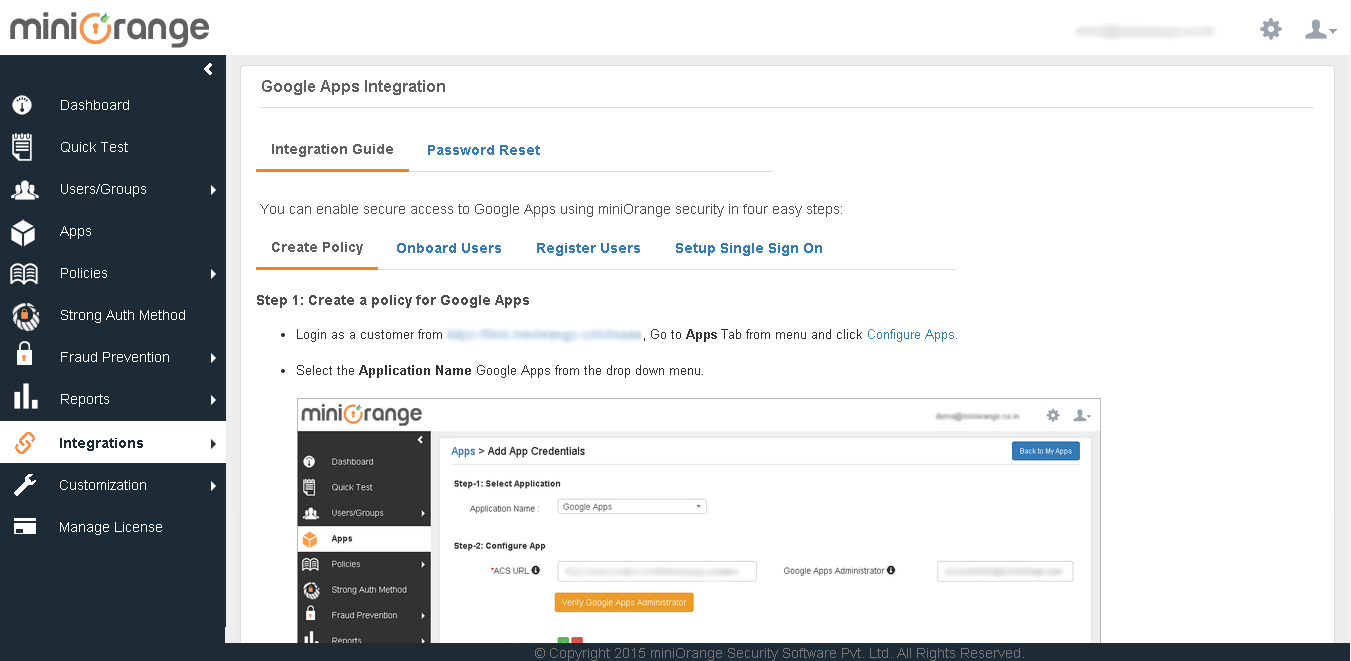 How to customize SMS gateways?
You can customize SMS gateways in the following way:
Select SMS Gateway Configuration from Customization tab.
Now select the radio button Set organization SMS Gateway.
Here enter the SMS Gateway URL.
To test the SMS gateway enter a phone number, on which you want to receive OTP.
Enter the OTP Sent in SMS to verify.
You can SAVE this configuration, over our default SMS configuration.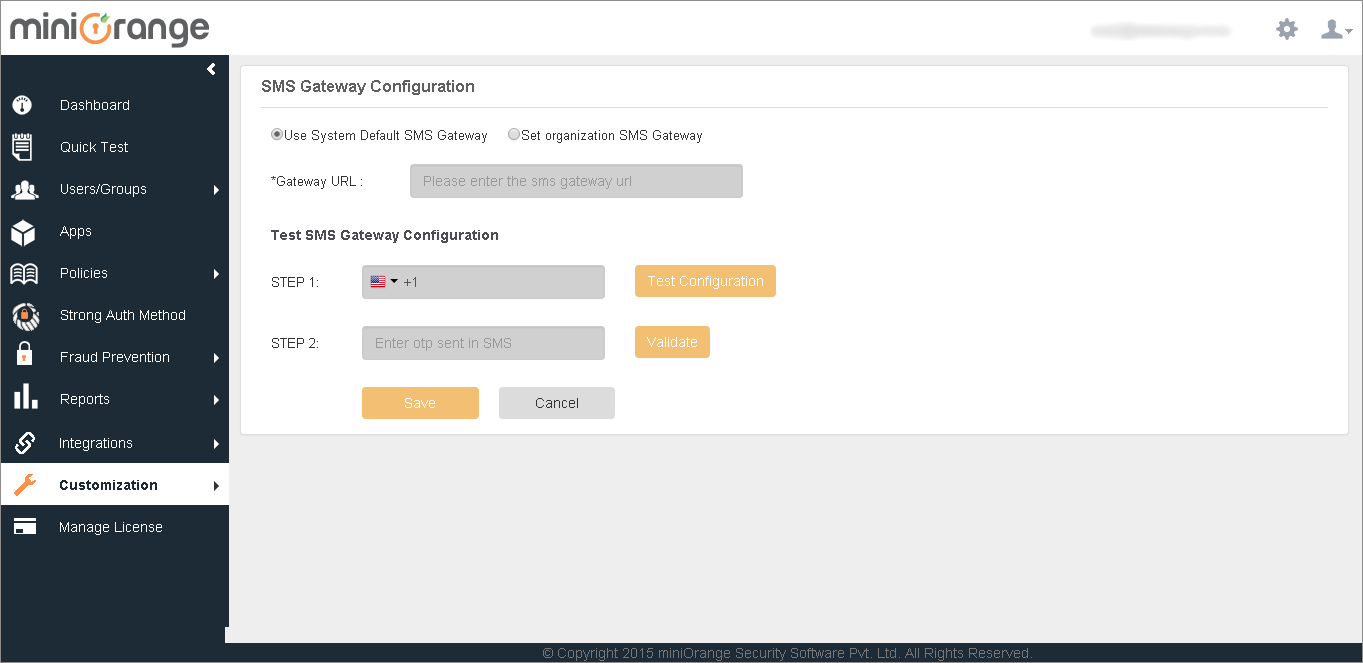 How to customize SMTP gateways?
Customize your SMTP gateway configuration under Customization -> SMTP Gateway Configuration.
Select the radio button Set Organization SMTP Server.
Fill in the Required field under Primary SMTP Server Configuration.
To test the SMTP configuration, enter the email to test.
Now enter the OTP received on your the email, you entered in the STEP1 field.
You can SAVE the configuration, over our default SMTP configuration.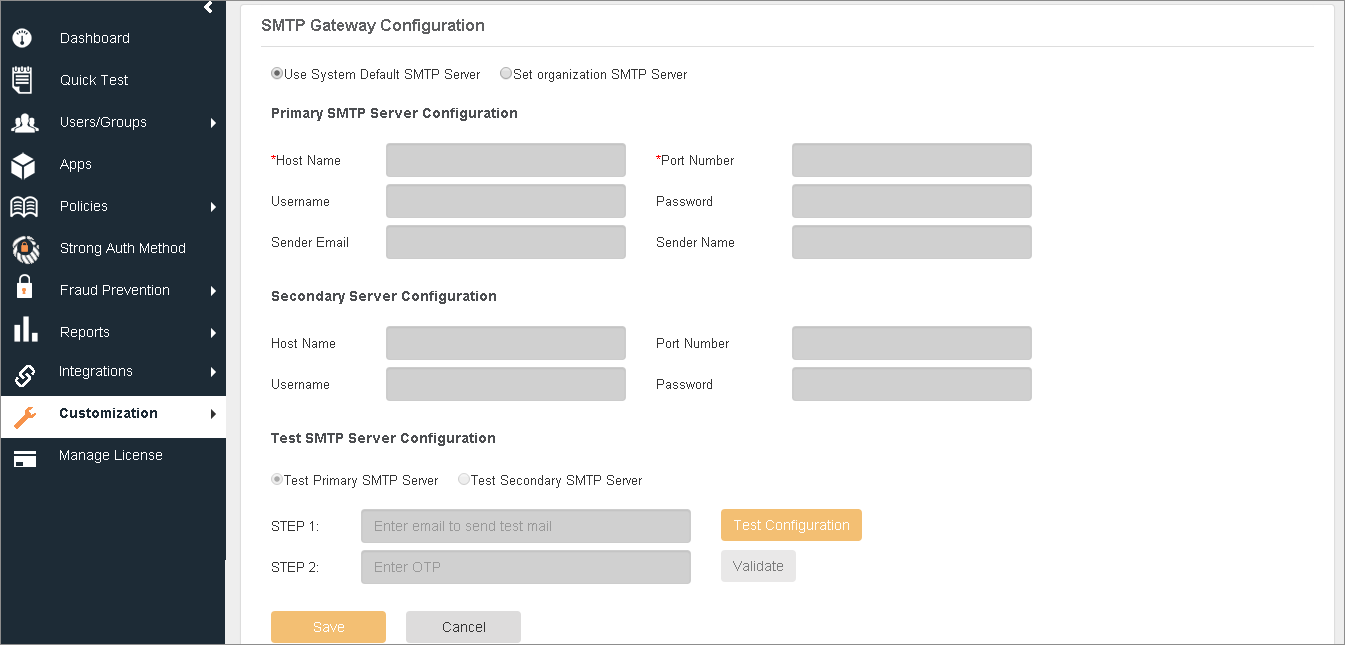 How to customize OTP Email Template Configuration?
You can add your own customized email under Customization -> OTP Email Template Configuration. Select Set Customized Email Template, edit the fields as per your requirement. You can test your Email Template Configuration by clicking on Send Test Email. Click on SAVE to save this Email Configuration.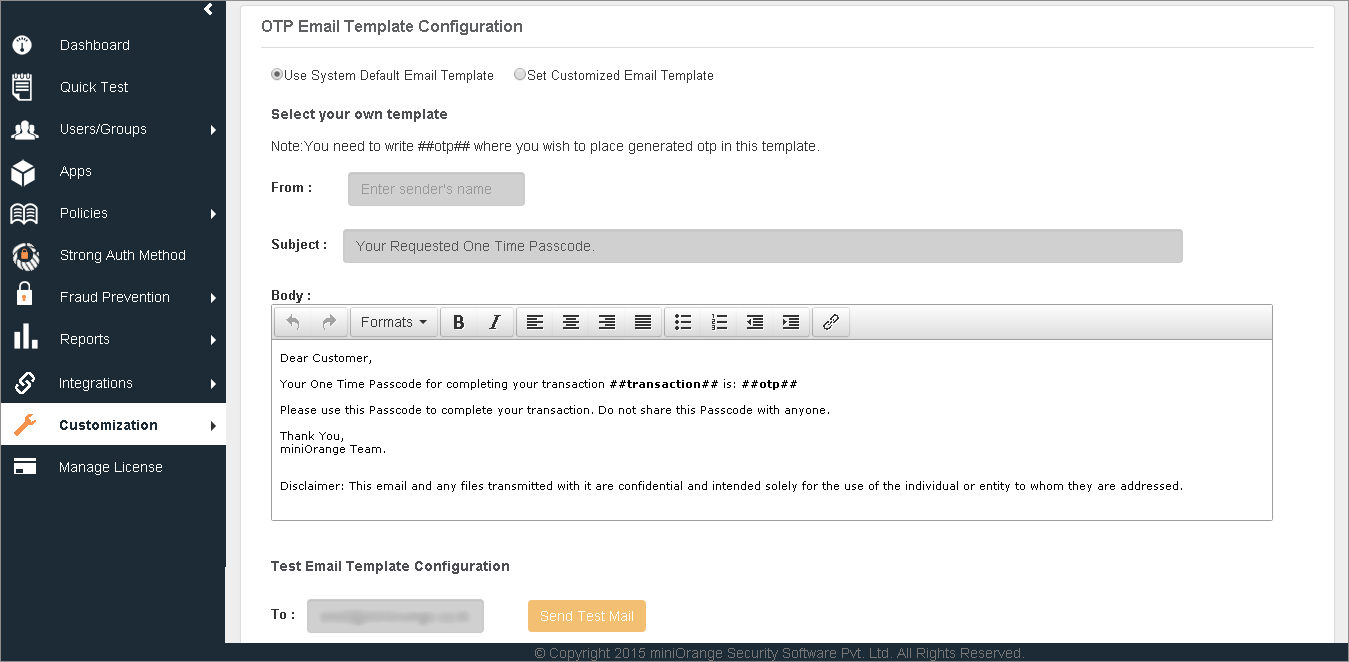 How to manage License?
To manage license, do the steps that follow:
Go to Manage License tab and click on Make Payment to do the payment.
Enter the payment details here.
Click on Pay and do the payment.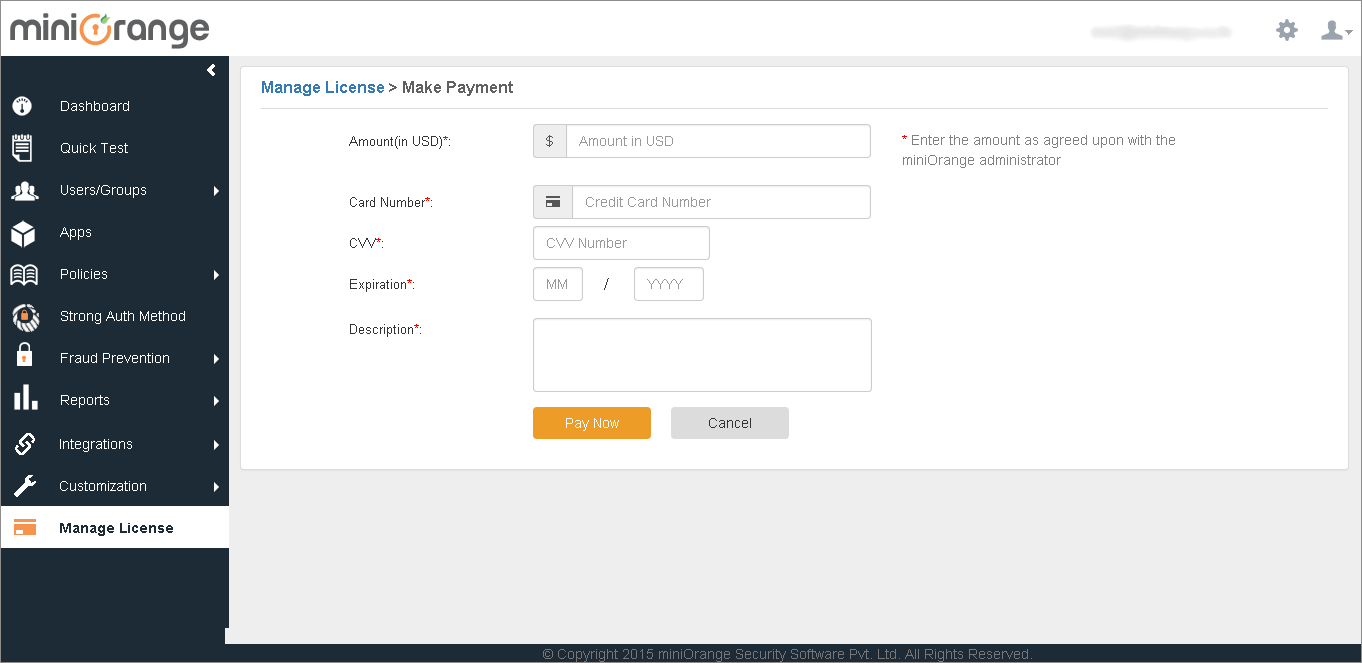 How to change password?
You can Change your password anytime you want, go to the Account and select Change Password.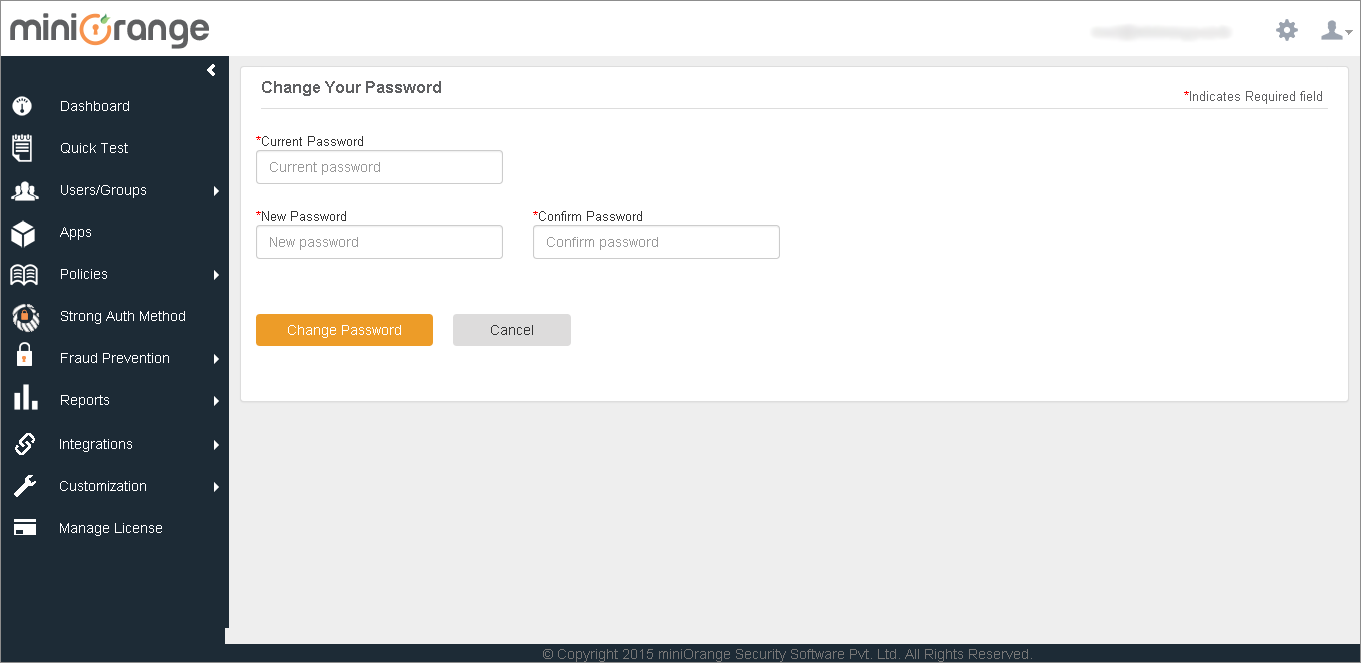 How to configure Second factor?
Go to Strong Auth Method.
Select a second factor method from Second Factor Type to change the second factor method.
Check the checkbox Prompt for second factor during signin to your console
Click on Save to use this new Strong Authentication Method.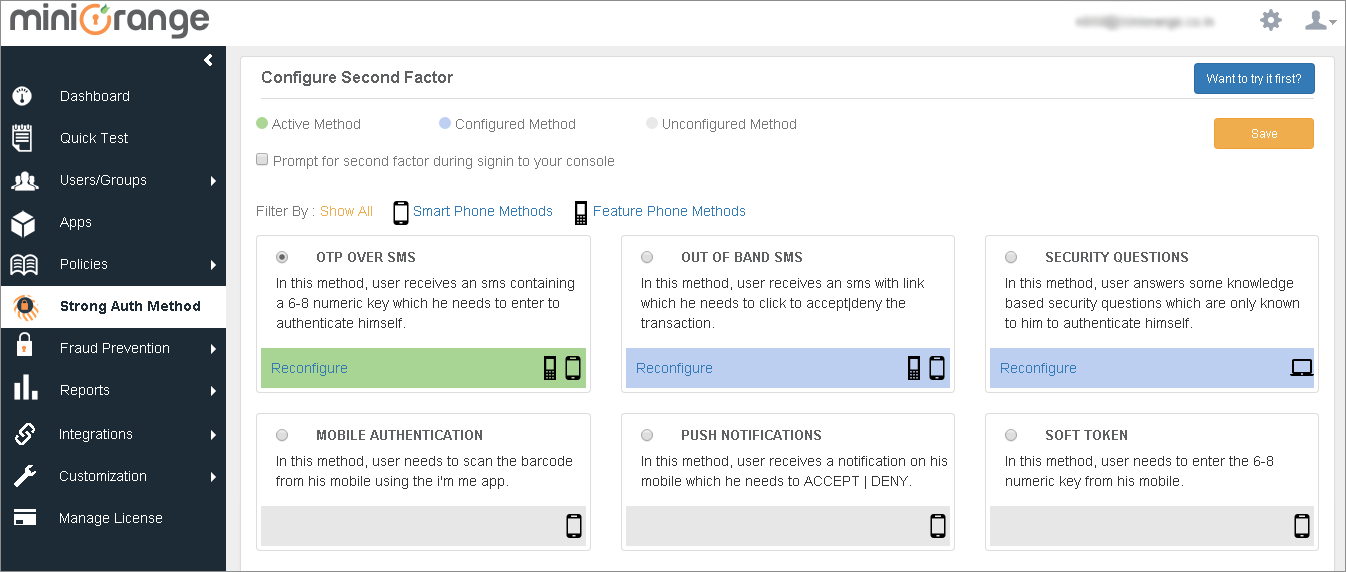 How to edit account profile?
Edit your account profile under Account -> Personal Profile and edit your personal details and click on SAVE to save the account profile.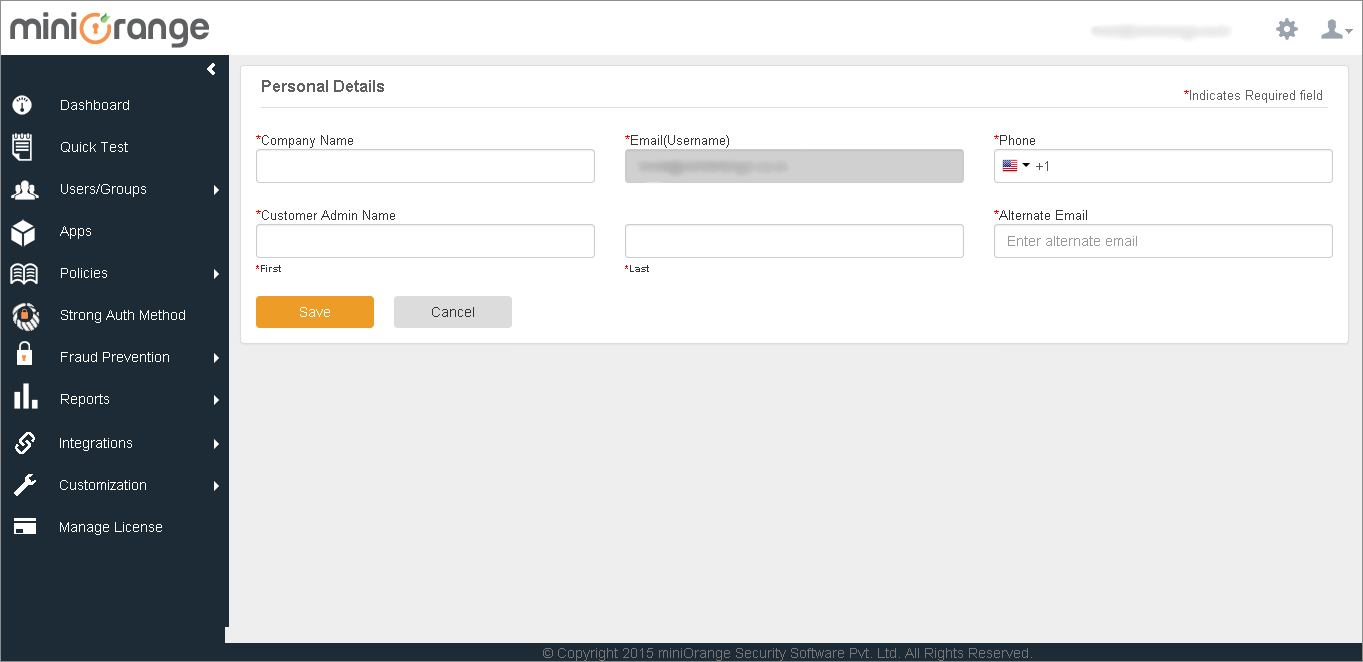 How to configure forgot phone options?
To set forgot phone configuration, go to Account and select Forgot Phone Configuration. Set the forgot phone configuration as per your choice, it is recommended to check alternate login method for security purposes.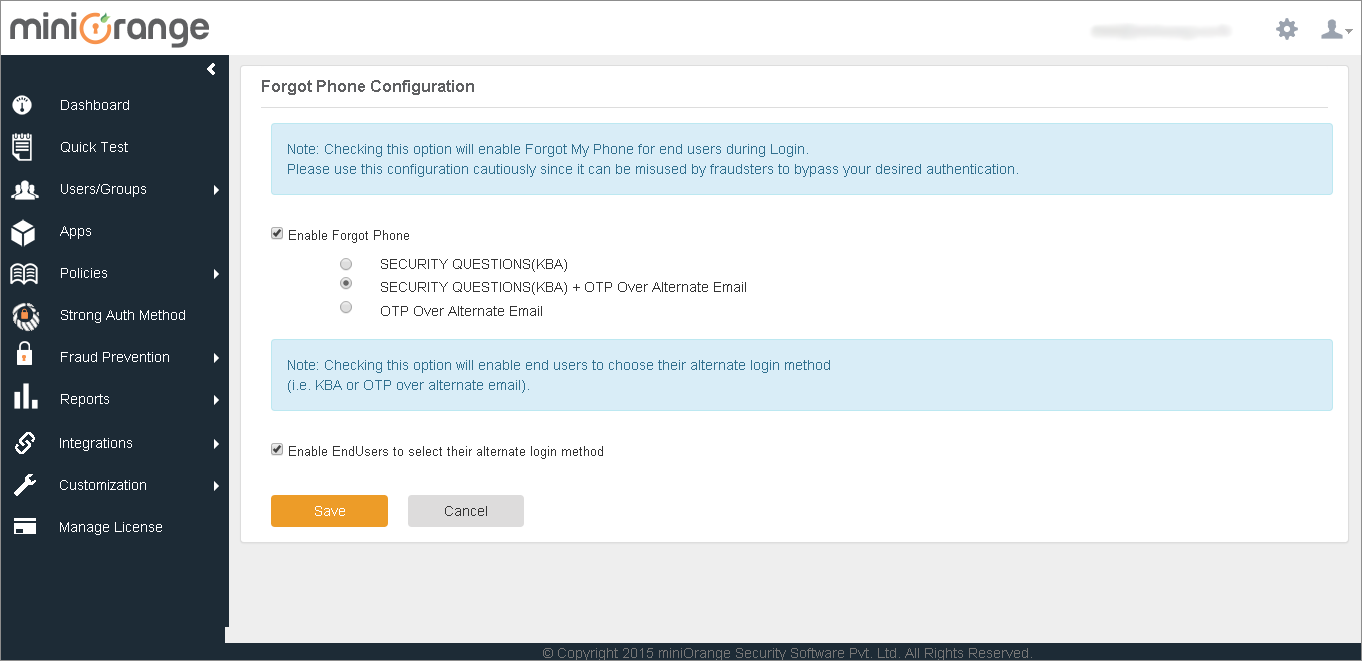 Back to top
Support for all types of external identity sources
Back to top
Directory-as-a-Service
miniOrange provides the facility to host identities in a private directory which can be provisioned as per requiremenent. Once a directory is provisioned, user management(user provisioning, user-deprovisioning, password management, access levels) is done from the directory. Connection to third party applications with the directory is provided with various connectors.
Back to top
Social Login
miniOrange combines the social media data of all your social networks at one place. Whether you are using Facebook, Twitter, Google+,Vkontakte, any social network, miniOrange visualizes and checks your social marketing success, presented in a clean and neat design to always keep the overview.
Read more.
Back to top
Application Connectors
miniOrange Authentication Products also have ready integrations with number of leading providers, these ready solutions allow enterprises quickly increase security of information and resources without worrying about time for initial set up or future upgrades. The following custom connectors exist:
Java Connector
.NET Connector
Desktop application connector
Credential Vault connector
Mobile apps Single Sign-On
Windows Single Sign-On
Application connectors also exist for 4500+ cloud and legacy applications.
Read more.
Back to top
Customization
Our powerful branding options allow you to customize various aspects of miniOrange so that it mirrors your brand's logo and colors, and matches the feel of your organization's aesthetics. We did all the customization for a global, world-class mining company. You can customize the following:
Login URL
Banner, logo, favicon and UI element colors
User invite templates
SMTP gateway
SMS gateway
Email templates
Read more
Back to top
Reporting
miniOrange provides detailed reports for the following:
Single Sign-on
Two Factor Authentication
Fraud Prevention
Social Login
These reports assist in compliance and understanding user behavior.
Back to top
Self Service Console for end users
miniOrange Self Service Console for end users provides the user the functionality to manage his/her organizational identity and configure applications for single sign on. The various features of the self service console are:
One-click login into configured applications
Configure 2 Factor authentication
Navigate to custom added applications
Back to top
miniOrange Single Sign on product details
miniOrange provides array of user authentication solutions to enhance the security of sensitive information and resources. Our Strong Authentication, Fraud Prevention and Single Sign-on products weave together disparate protocols and processes in secure Software as a Service environment providing easy to deploy, scalable and flexible platform at minimal TCO.
Product Features:
Back to top
Two Factor Authentication & Fraud Prevention
miniOrange 2 Factor Authentication Products ensure right set of eyes have access to your sensitive information sitting on the cloud or on-premise.
Traditional two-factor authentication solutions use hardware tokens (or "fobs") that users carry on their keychains. These tokens generate one-time passwords for the second stage of the login process. However, hardware tokens can cost up to $40 each. It takes time and effort to distribute them, track who has which one, and replace them when they break. They're easy to lose, hard to use, and users consistently report high levels of frustration with token-based systems.
miniOrange provides 15+ authentication methods.
Read more
miniOrange Fraud Prevention product uses device, location, time of access and user behaviour to minimize the risk of improper data access or loss of information. It dynamically analyzes user requests and apply business security policies to application access which minimizes the risks of unauthorized access. It complements the existing traditional access controls by using contextual elements (e.g. device, location, time of access and user behavior) to allow for a more dynamic policy decision.
Read more
Back to top