About Inkling
Inkling is a mobile smart content system providing service to portable application users. End-Users want to access the content through Inkling at any moment of time for 24 hours. Quick access to the shared applications through Inkling can improve the business bottom line, save users time for log in and improves the user experience to log in. Single Sign-On implementation can improve all this and contribute to accelerate business throughput.
Challenge
The users time to log in is a consistent issue if some important transactions are handled via Inkling. Most of the users have accounts in frequently used web applications, which they prefer to use in order to reduce theft of passwords. The user can't access Inkling using those credentials and log in with a single click. Single Sign-On for Inkling using WordPress/Joomla/Drupal is not possible directly.
Solution
miniOrange has successfully built a plugin whose integration with WordPress/Joomla/Drupal makes Single Sign-On possible between Inkling and WordPress or other applications which are in Joomla and Drupal. Using our "WordPress Plugin", "Joomla Plugin", and "Drupal Plugin" Single Sign-On can be enabled for existing WordPress/Joomla/Drupal site, and users can log in to Inkling using the same credentials.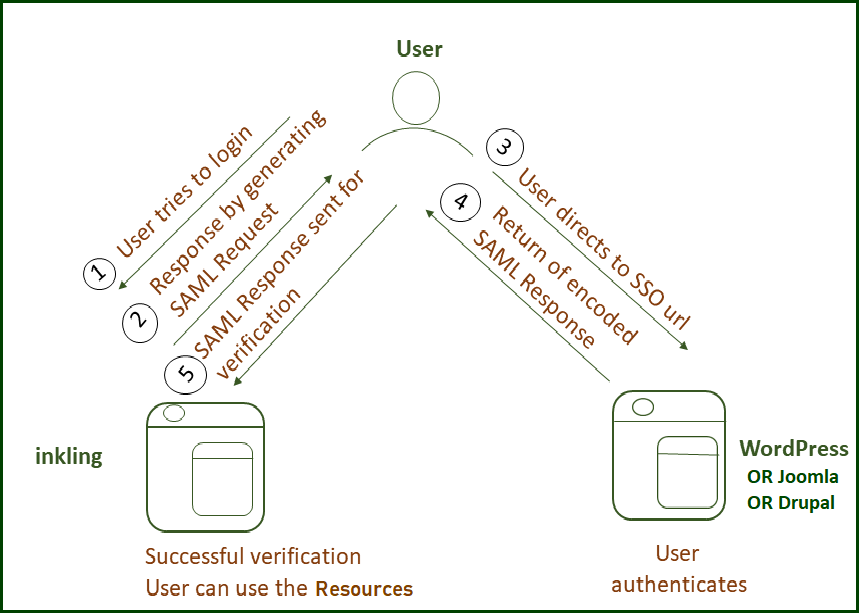 Steps to configure Inkling as SP
Obtain issuer(Entity id), ACS URL, if SP is configured for signed requests then you need to provide the certificate in the plugin as well. Obtain it from metadata file of Inkling.
In Identity provider tab of IDP plugin enter the values:

| Service Provider Name | Choose appropriate name according to your choice. |
| --- | --- |
| SP Entity ID or Issuer | Inkling Entity ID |
| ACS URL | Inkling Assertion Consumer Service URL. |
| X.509 Certificate (optional) [For Signed Request] | Paste certificate value you copied from the Metadata file. |
| NameID Format | Select urn:oasis:names:tc:SAML:1.1:nameid-format:emailAddress. |
| Response Signed | Unchecked. |
| Assertion Signed | Checked. |
| Encrypted Assertion | Unchecked. |

You will need to upload the IdP metadata or give certain IDP information in Inkling. You can get this information from the Service Provider Tab in the plugin.
You will need to configure user attributes to be sent in the SAML response which Inkling needs to log in the user. You can do this under the Attribute/Role Mapping Tab in the plugin. Note the Attributes required for Inkling.
Configure the plugin to send relevant user details.

   Please Note: The name you provide in the plugin for each attribute has to match the name being asked in the plugin dashboard.