Login into Wordpress with SafeIX credentials using OAuth client
SafeIX is a platform used by patients and healthcare providers to operate the medical records of a patient for ease of treatment. Data provided by Electronic health record (EHR) and Health information exchange (HIE) can be stored in patient's record in SafeIX. The pharmacist can use SafeIX Platform to receive Clinical document architecture (CDA) documents from the HIE and can assist medical data reconciliation between the multiple documents through the gateway. Pharmacist's recommendation along with above information is organized into a daily medication calendar by using other applications that support languages other than english also.
WordPress is a tool used to create a website which has different plugins that are used for adding more functionality and features to the websites. Users often needs to login to wordpress website using single login credentials of SafeIX. User can easily login and access their sets of medical records by single sign on (sso) if a plugin is configured which supports OAuth (protocol used for authentication).
miniOrange provides a solution by introducing a OAuth client plugin to support SafeIX to allow user to single sign on into a Wordpress website using SafeIX credentials. With SafeIX login credentials user can login into wordpress website with a single click by using OAuth client. Thus eliminating the need to seperately creating an account in Wordpress since credentials can be obtained from SafeIX. OAuth Login plugin also allows login with google, facebook, twitter or other custom OAuth server. OAuth Client plugin works with any OAuth provider that conforms to the OAuth 2.0 standard.
How miniOrange OAuth plugin can work for SafeIX?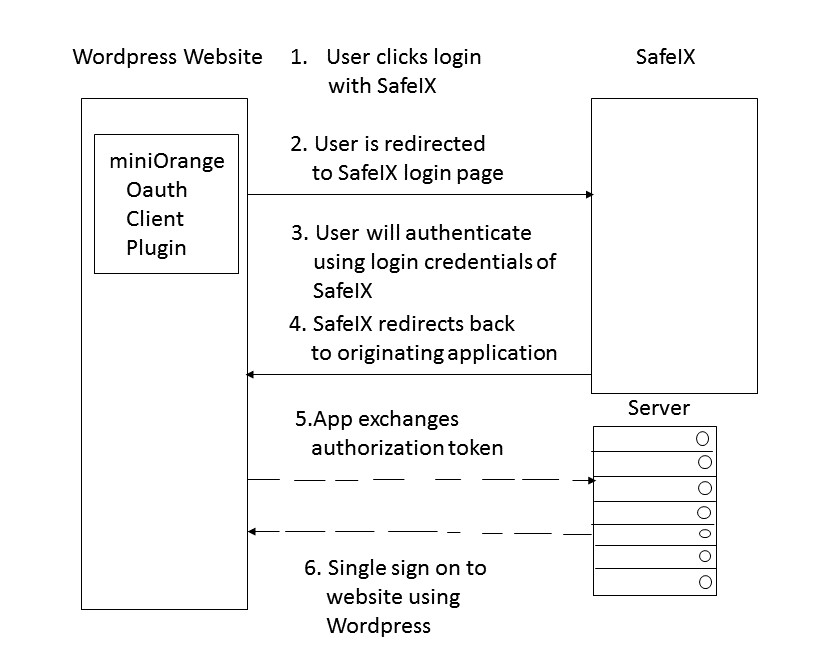 Steps to configure OAuth client plugin with SafeIX:
Obtain client id and client secret from SafeIX.
Configure your miniOrange OAuth plugin with client id, client secret, OAuth end points and scope.





Configure Widget to show login button on site.





Go to Wordpress site and click login using SafeIX.