Single Sign On to Tableau
What is Tableau?
Tableau is a powerful business intelligence tool used for data visualizations in the form of charts, graphs, and so on to gain business insights for the better development of a company. It is much interactive tool which can help business managers, team leaders to make more appropriate decisions speedily. It can help non technical staff also to create customized dashboards for their work. The drag and drop interface of Tableau makes it really fast.
Logging in to Tableau using Single sign on (SSO) is needed to use this application effectively. If user is already logged in into his website user should get autologged in into Tableau using the credentials of Identity provider (IDP).
Our solution
miniOrange provides Single Sign On solution to login to Tableau from your existing website using connectors or plugins. miniOrange plugins supports SAML (Security Assertion Markup Language - standard used for authentication) which is used to securely authenticate the user to login into SAML supported applications like Tableau. These connectors convert your existing website to a SAML 2.0 compliant Identity Provider. The plugin is configured by using the Entity ID and Assertion Consumer Service URL (ACS URL) obtained from Tableau. Attributes are provided to Tableau from the identity provider (your website) in a saml response which Tableau user needs to login. We have plugins readily available for WordPress, Joomla, Drupal and other systems.
Embedded views in Tableau
Tableau provides a way to embed graphs and charts on your website directly using Iframes and scripts. This can control the public view on a webpage with the help of passed parameters (these parameters can be used to control the toolbar options). To access the embedded view the user has to login through a form provided by the embedded view. miniOrange solution of single sign on (SSO) helps the user if he or she is already authenticated and logged in into the site. There is no need to login again into embedded Tableau view. The plugin will automatically log in the authenticated user to Tableau and he or she is directed to the page with the Iframe. Thus providing seamless way to show necessary information on your site without authenticating the user twice.
For more details about setting up Tableau for embedded views:
click here
How miniOrange SAML plugin can work for Tableau?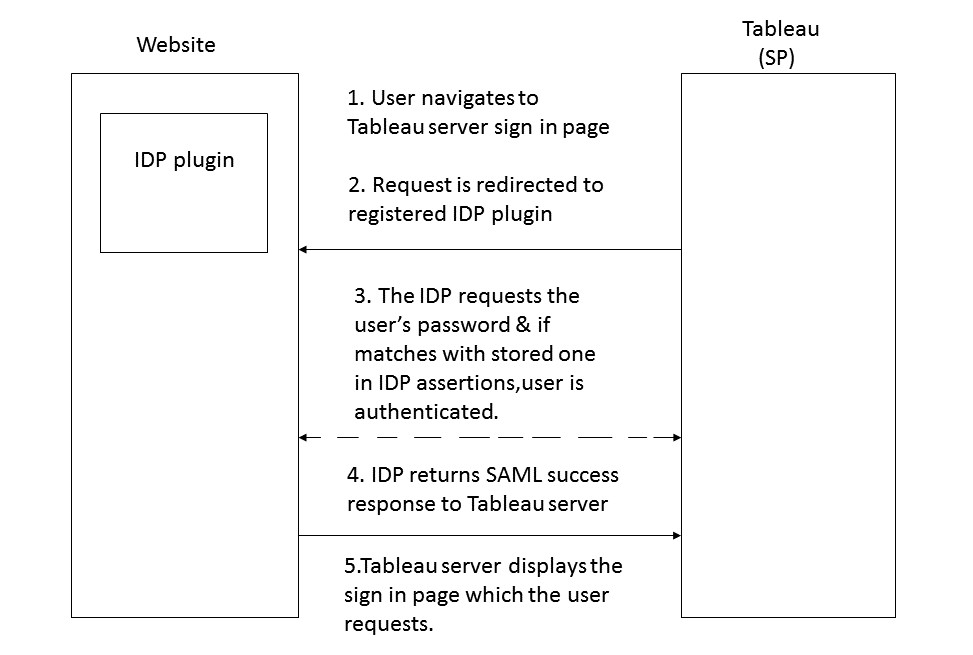 Step by step guide to set up Tableau as SP:
Log in to your Tableau Dashboard as Admin.
Go to Authentication Settings in the Settings menu.



Enable SAML authentication by checking the Single Sign On with SAML checkbox.



Note down the Tableau Entity ID and Assertion Consumer Service URL (ACS URL) which will be needed to configure the plugin. Note: If your Tableau SP is configured to send Signed Requests then you will need to provide the certificate in the plugin as well. You can get the certificate from the Tableau Metadata.

In miniOrange SAML plugin, go to Identity Provider tab. Enter the following values:

Service Provider Name  :   Choose appropriate name according to your choice .
SP Entity ID or Issuer   :   Tableau Entity ID .
ACS URL               :   Tableau Assertion Consumer Service URL .
X.509 Certificate (optional)
[For Signed Request]   :   Paste certificate value you copied from the Tableau Metadata file .
NameID Format         :   Select urn:oasis:names:tc:SAML:1.1:nameid-format:emailAddress .
Response Signed       :   Unchecked .
Assertion Signed       :   Checked .
Encrypted Assertion    :   Unchecked .
You will need to upload the IdP metadata or give certain IdP information in Tableau. You can get this information from the Service Provider Tab in the plugin.
You will need to configure user attributes to be sent in the SAML response which Tableau needs to log in the user. You can do this under the Attribute/Role Mapping Tab in the plugin. Note the Attributes required from Tableau.




Configure the plugin to send relevant user details.
Please Note: The name you provide in the plugin for each attribute has to match the name being asked in the plugin dashboard.




Select users you want to enable SSO in the Tableau dashboard.



Click on the Test Login button in the Tableau Dashboard to Test the SSO.



You can see the following screen after a successful SSO.



Embedded views :
Steps to set up Tableau for embedded views in IFrame:
After following above steps to Single sign on in Tableau select Default Authentication Type of Embedded Views to Authenticate using an inline frame from Authentication Settings.



Go to your Tableau View and select the view you desire to show in an Iframe.



Select the Share option from the top right corner section of your view. Copy the Embed Code or Link.
You can use the embed code or link to load the view in an Iframe.
Note: Metadata file can be obtained from Service Provider Tab in plugin, its available in premium version.