miniOrange provides secure access to WordPress for enterprises and full control over access of applications, Single Sign On (SSO) into Wordpress with one set of login credentials.
How miniOrange SAML 2.0 Single Sign-On Plugin works with Multiple Identity Providers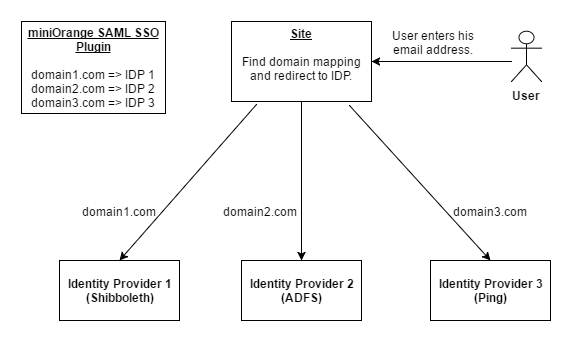 With miniOrange SAML SSO plugin you can configure Multiple IDPs. This allows the users to authenticate with different IDPs based on the domain name in their Email address.
For Example -
If you have users from from multiple organisations (like Universities), you can configure all the Organisation's IDP and have users authenticate themselves with their Organisation account.
Benefits of SSO with Multiple IDPs:
1. If your site have users from different Oraganisations and you want them to authenticate with their Oraganisation account, using this plugin you can do that securely. For example - if you have a site that have users from different Universities, you can force your users to sign in using their University account.


2. Using this plugin you can restrict your site access to the users from particular Oraganisations.