Single Sign-On for NASA
miniOrange + NASA
Atlassian Crowd Server: Single Sign On and User Identity that's easy to use
Use Case - Connect all the Atlassian applications to IDP(Centrify) for SAML Single Sign-on.
NASA was looking for a product that has a Single Sign-On (SSO) feature for connecting JIRA, Confluence, Bitbucket, and Bamboo together. There was no such product available in the Atlassian marketplace.
Being an existing client of miniOrange, NASA contacted us with the query of connecting these products to the Crowd Server by enabling Single Sign On in its environment. The crowd is used as a central application to manage users and their permissions for all the Atlassian applications, ensuring every SSO Request/Response from (to) the application goes through the Crowd Server.
Any user accessing the application directly, for example, JIRA, should get redirected to the IDP(via Crowd) for authentication. The crowd server will be responsible for SAML authentication, session management, user and group management. Once the user session is created in the Crowd, the user will be redirected back to the application and will be logged in. miniOrange provided and listed solutions for this use case on the Atlassian Marketplace.
Solutions we provided to NASA:
We configured Single Sign-On between Crowd Server and IDP using Crowd SAML SSO Add-On. Installed Crowd SSO Connectors in all the Atlassian applications so as to invoke SSO directly from the application itself.
All SSO requests and responses to and from the IDP will go through the Crowd server. The user authentication will be done by the IDP and Crowd can still be used to manage user permissions. Also, with this flow, End-users will not be able to notice that the SSO request/response to and from IDP passes through the Crowd Server.
miniOrange successfully developed the connector exactly as they needed i.e. "Crowd SAML SSO Add-On and its connector add-ons for Atlassian applications". By fulfilling the requirements of NASA we were able to include them in our journey of innovations. Being a software security company we know the importance of an organization's security and hence build secure quality products for our clients along with world-class support.
How does it work?
miniOrange SAML Single Sign On (SSO) Add-On acts as a SAML Service Provider which can be configured to establish the trust between the Atlassian applications and a SAML capable Identity Provider to securely authenticate the user to the Crowd Server. The Crowd Server is integrated with JIRA, Confluence, Bitbucket and Bamboo in a single server through the Crowd SSO connector for Atlassian applications. This allows any user landing on these applications to be authenticated from the crowd server. The crowd server is made responsible for SAML authentication from IDP, session management, as well as user and group management. Owing to which we were able to meet the expectations of NASA and became the first in the market to provide these add-ons together.
SAML Single Sign on for Crowd is with the best SSO features – SAML add-on that works with all Identity Providers. Users have to sign in to Crowd Server with SAML 2.0 capable Identity Provider. We support all known IdPs – Google Apps, ADFS, Azure AD, Okta, OneLogin, Salesforce, Shibboleth, SimpleSAMLphp, OpenAM, Centrify, Ping, RSA, IBM, Oracle, Bitium, WSO2, NetIQ, miniOrange, etc.

Key benefits of the solution to NASA :
Moved user authentication form Crowd to secure IAM application without affecting the existing setup.
Users are automatically signed into Crowd as well as connected to the Atlassian Applications.
Users don't have to enter their passwords repeatedly.
This made environmental setup easy to enforce additional security layers like 2FA on top of user authentication which is not possible while using Crowd Server as an authentication source.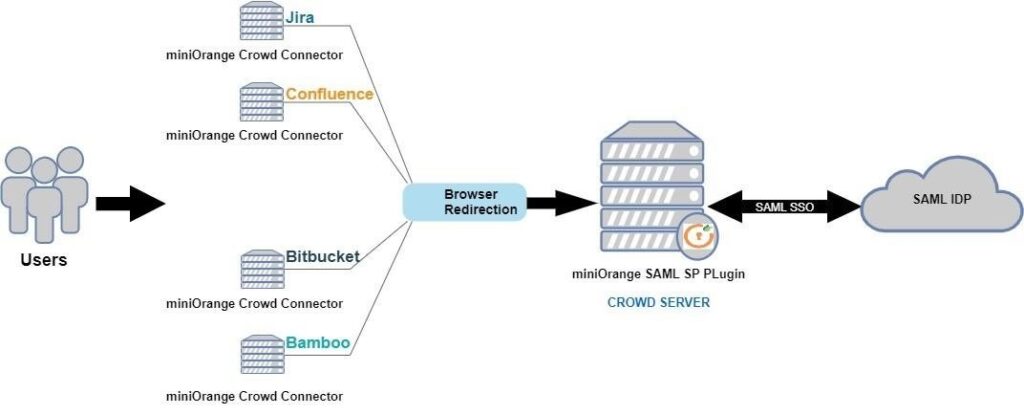 In conclusion, marketplaces have many products according to business needs. For NASA, our product proved to be the best. What about you? Which product is best for you?