What is User Provisioning and Deprovisioning ?
User provisioning is the access management (IAM) & maintenance of the users to access the resources available in one or more systems through automation. This access management (IAM) solution includes creation, updation, deletion of the user accounts and synchronization of the attributes on services such as Google, AWS and ADFS or applications such as Confluence, Discord, JIRA, SiteFinity, WordPress etc. Deprovisioning is removing the access of the users from all the resources & services such as Active Directory, Google, AWS or from different applications.

miniOrange user provisioning allows you to update & manage the user information in your integrated directory or applications when you perform creation, updation or deletion in your miniOrange service. miniOrange provides automatic deprovisioning of the user accounts when the user leaves the team or organization. This will save time and ensures that your user's access privileges are up to date. User provisioning and Deprovisioning makes life easier for admins because they do not have to manually arrange access for each user.
How do user provisioning and deprovisioning make companies more secure?

The danger of expensive security breaches for organizations who neglect to manage their own arrangements and deprovision, appropriately or rapidly, is tremendous: the average price of an information penetration is $148 per record and $7.91 million for every break in the U.S. Subsequently, organizations regularly fail to meet expectations of the market for long periods of time following a significant break, and 60% of independent companies break within a year of successful attack.
Automated account provisioning helps to access services protected by guaranteeing your representatives access to the applications they need. Account deprovisioning helps keep your data protected by guaranteeing that at whatever point a representative leaves, their access is consequently eliminated for every single associated app. Likewise, all current client meetings are held to lessen security hazards.


Some of the Solutions Provided by Us
FEATURES
BENEFITS
Enhance Security
Improve security by assigning different permissions level on role based with automatic provisioning within apps.
Reduce Cost
Reduces the cost of identity access management (IAM) operations by automating onboarding and offboarding processes.
Increase Efficiency
Provide employees, contractors and partners with access to the applications they need when they need it.
Reduce Complexity
Administrators can automatically provision and administer multiple application accounts from one centralized system.
miniOrange provides User Provisioning which automates user information in your integrated directory when you manage user information like CREATING, DELETING or UPDATING user accounts in your miniOrange service.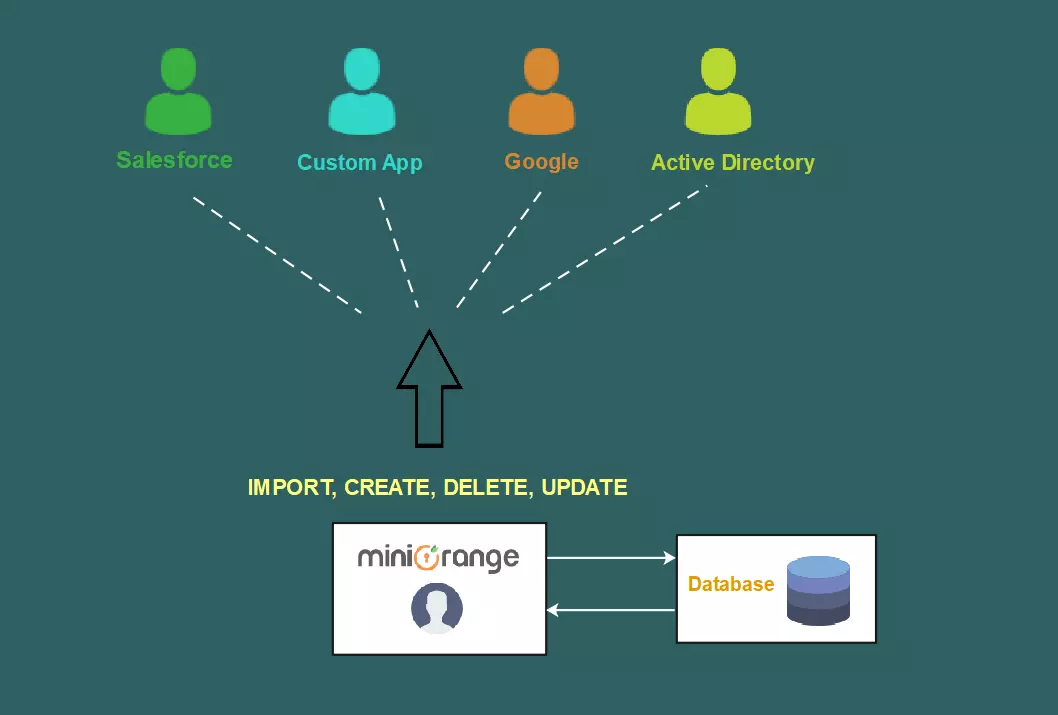 Pre-Integrated Apps for Provisioning
Active Directory Provisioning
Active Directory provisioning can help manage resources between your cloud (applications) and on-premises systems(AD and applications). This helps enterprises to have a simplified user & access management (IAM) and have users gain access to the applications and systems in a simple and intuitive manner. AD provisioning allows administrators to assign employees and users the appropriate access management (IAM) provisioning levels to company resources as per their department( HR, Finance, IT, Operation, Marketing etc).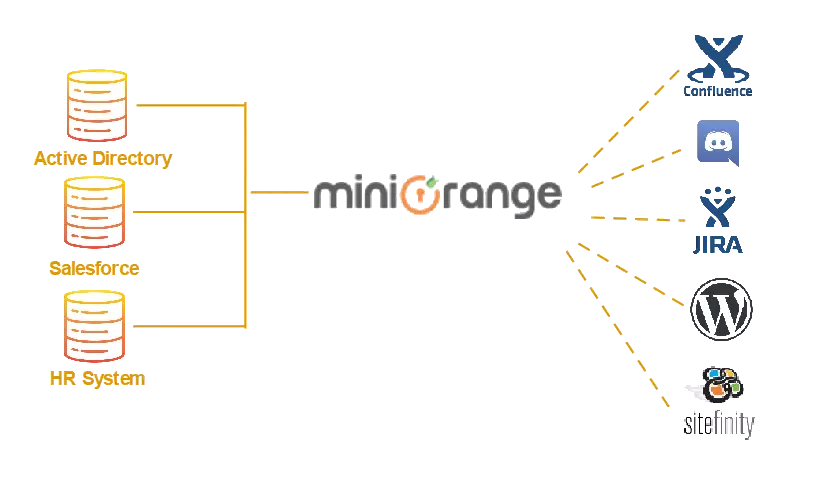 Steps to setup User Provisioning
Here are the steps to turn on user provisioning in our IDP. As an example, we will be setting up Active Directory (AD) for user provisioning. At the end of this setup guide, we will have configured Active Directory (AD) for user provisioning. The admin will be able to perform operations like import, create, delete, update, change password from miniOrange console and these changes will be reflected in the Active Directory.
To configure user provisioning feature refer to the steps given below:
Login to the miniOrange Admin Console as a customer.
Go to the User Stores, Click on Add Users Store.
Configure ldap as a User Store to set up user provisioning with AD/LDAP. You can choose any of the user store mentioned there.

Store LDAP Configuration in miniOrange: Keep configuration in miniOrange. Make sure to open the firewall to allow incoming requests to your LDAP.
Store LDAP Configuration On-Premise: Keep configuration in your premise and only allow access to LDAP inside premises. You will have to download and install miniOrange gateway in your premise.



Note: If you want to setup AD as a user store for the first time, refer to step-1 of this document.


Select the provisioning option.
Select the Active Directory from the drop down menu in Select Application.



Enable the provisioning features you want for users.
Click on the Save Button to save the configuration and you will see the successful message on the top.




To import the users from Active Directory, go to the Import Users tab
Select the Active Directory from the drop down menu and click on import.




Now go to the Users >> User List and you will find the all the users imported from Active Directory.




To create a user in miniOrange, Go to Users >> User List >> click on the Add User button. Fill out user basic information and click on Create User button.




After creating user in miniOrange it will automatically create the same user in AD.






Steps to setup Group Provisioning (Sync) with Active Directory (AD)
You can also set up Group Provisioning (Sync) with miniOrange to enable syncing of Active Directory (AD) groups in miniOrange. This will also help you maintain the same user hierarchy and access control in miniOrange as in your Active Directory. You can sync users with their corresponding group names between AD and miniOrange. The user groups will be automatically provisioned and deprovisioned in miniOrange when they are created or modified in AD and vice versa. The groups will be created on the fly if they are not present in miniOrange. You can follow the below instructions to setup AD Group Sync:
Go to miniOrange Dashboard >> Userstore and edit the AD configuration which you have set up earlier.
Enter the name of AD group attribute in Group Attribute textbox. If you are using default settings in AD leave it to memberof. Now, Save the settings



Go to provisioning. Select Active Directory from Dropdown menu.



Enable Import Groups option.
Enter base DN for group sync.
Note: if you want to find group base dn, enter following command in windows command prompt. dsquery ou -name (known organisational unit)

Save and go to Import groups.



Select Active Directory and click on import. Your groups will be imported.
If you also enable Assign Users to groups, imported users will be assigned to respective groups in miniorange
The Active Directory Group Provisioning (Sync) setup is done. Now, whenever a user is created or modified and if the group sync is enabled, the user group attribute will be automatically synced and the user group will be assigned or changed accordingly in miniOrange.
Why Our Customers choose miniOrange Secure Identity Solutions ?
24/7 Support
miniOrange provides 24/7 support for all the Secure Identity Solutions. We ensure high quality support to meet your satisfaction.
Try Now
Affordable Pricing
miniorange provides most affordable Secure Identity Solutions for all type of use cases and offers different packages based on customer's requirement.
Request A Quote
We offer Secure Identity Solutions for Single Sign-On, Two Factor Authentication, Adaptive MFA, Provisioning, and much more. Please contact us at -
+1 978 658 9387 (US) , +91 77966 99612 (India) | info@xecurify.com