Why is BigCommerce CIAM a necessity?
If you wish to see profitability in your revenue generation - then Yes, it is a necessity. Continue reading to find out how.
Merchants are to provide a seamless and personalized customer experience for their BigCommerce Store across multiple channels and devices. This means that customers can easily access their accounts, view their purchase history, and receive customized recommendations, regardless of the device or channel they are using. This helps to improve customer satisfaction and loyalty, which is essential for long-term business success.
miniOrange CIAM solution for BigCommerce is not built to directly earn money. However, it can indirectly help merchant's businesses to increase their revenue and profitability by improving - customer satisfaction, loyalty, and engagement.
Moreover ,BigCommerce CIAM can help businesses to streamline their - Internal processes | reduce operational costs | and improve efficiency, leading to higher profitability over time.
Merchants have experienced 85% efficiency in their sales due to seamless login experience for their customers after using miniOrange ready-to-deploy cloud/on-premise based customer identity & access management (CIAM) & SSO solution for single / multiple BigCommerce Stores.
Overall, miniOrange helps businesses to ensure that customers' personal data is protected and secure, in compliance with privacy regulations such as GDPR, CCPA , and others. This is crucial because customers are increasingly concerned about the security of their personal data, and failure to protect it can lead to significant financial and reputational damage for businesses.
What does the miniOrange BigCommerce CIAM feature cover?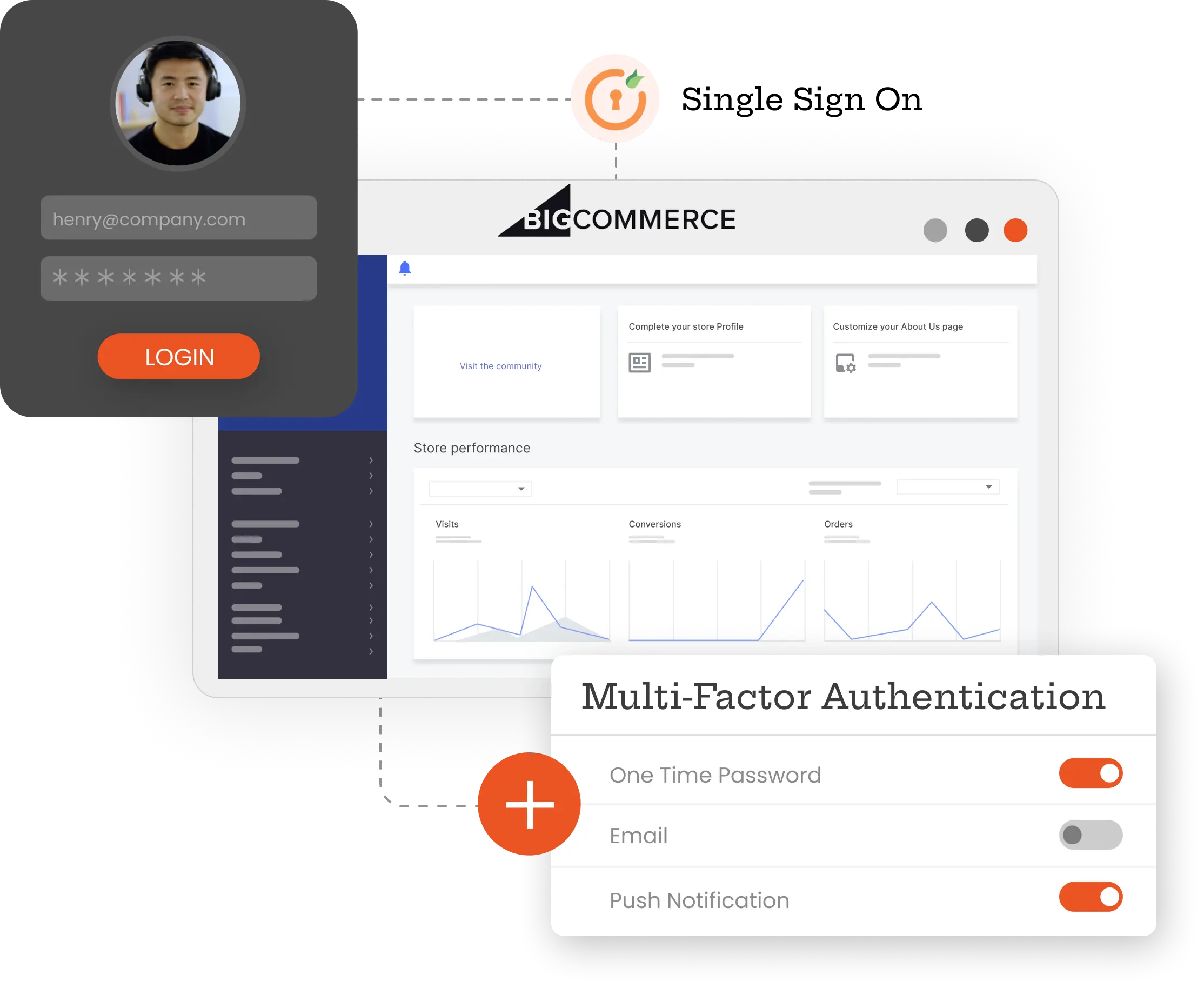 miniOrange BigCommerce CIAM solution is a comprehensive platform for managing customer identity and access control. The solution offers a range of features to not only enhance the security of customer login, but also look after customer convenience of the login process.
BigCommerce SSO: This solution streamlines access to multiple BigCommerce Stores with a single set of login credentials, enhancing security and convenience. It eliminates the need to remember separate usernames and passwords and provides centralized access to authorized applications. miniOrange's SSO is flexible and can be tailored to meet specific organizational needs.
Multiple Identity Provider support: Allow users to log into BigCommerce Store using existing credentials of Identity Provider/Userstore (Azure Ad,BigCommerce, OKTA, Auth0, AWS Cognito). No need for user migration. By connecting BigCommerce with an external IDP, merchants can provide a seamless and secure login experience for their customers.
Social Login Integration:This feature enables customers to log in to your online store using their existing social media accounts, such as Facebook, Google, or Twitter. This eliminates the need for customers to create new login credentials and provides a faster and more convenient login experience.
Multi-Factor Authentication (MFA): This feature adds an extra layer of security to the login process by requiring customers to provide additional proof of identity, such as a code sent via SMS, answering security questions, or using biometric authentication. Further, it helps to prevent unauthorized access to customer accounts and protects sensitive customer information.
Customer Data Management: The solution provides a centralized database for storing and managing customer information, improving the accuracy and accessibility of customer data. This enables businesses to make informed decisions about customer engagement and experience and provides a single source of truth for customer data.
WhatsApp Notification: miniOrange's WhatsApp notification enables merchants to send customized WhatsApp notifications to customers based on certain triggers, such as abandoned cart reminders or order confirmation messages. The app can typically be easily configured with your BigCommerce Store.
With these features, miniOrange's BigCommerce CIAM solution offers a secure and convenient platform for managing customer identity and access control. It ensures a seamless experience for merchants and customers.
Benefits of Implementing miniOrange CIAM
miniOrange CIAM solution offers:
Easy Integration: Save time and resources compared to building and maintaining a similar solution in-house, and reduce engineering costs by up to 95%.
Quick and Easy Migration: Smooth migration process from your existing CRM / IDP systems to the miniOrange platform.
Secure On-premise and Cloud Services: Choose from the cloud or on-premise deployment with multichannel support for growth.
Better Compliance: Helps organizations meet regulatory requirements for customer data protection and privacy.
In-depth miniOrange functionalities for BigCommerce
Reduce abandoned carts with single click sign up - keep customers hooked with miniOrange's one-click Social Login solution

In the event that a customer departs from your store without providing their email, the opportunity to obtain their information may be permanently lost. Fortunately, miniOrange Social Login offers a solution by providing your customers with a convenient one-click login option, enabling you to quickly and easily retrieve their information.
Supported Platforms: Google, Facebook, Apple, & more

miniOrange's 2FA support for BigCommerce: because one password just isn't enough these days

Enable 2FA in BigCommerce stores to add an extra layer of security to user accounts, mitigating the risk of account takeover.
miniOrange supports a range of third-party 2FA apps, such as Google/Microsoft Authenticator or Authy, as well as SMS-based 2FA. Store owners can configure which 2FA methods are available to end users and customize the user experience with their own branding and messaging.

2FA just got a lot more interesting - click here to find your preferred method with miniOrange.

Keep the bad guys out and the good guys in with IP Address Restriction on your BigCommerce Store

IP address restriction is a security feature offered by miniOrange that enables store owners to limit access to their BigCommerce stores to specific IP addresses or a range of IP addresses. The admin can create a list of approved IP addresses, which can be updated or modified as necessary, to manage authorized user access.
With IP address blocking, admins can prevent unauthorized access to their BigCommerce store's sensitive information, such as customer data, sales data, and payment information.

Here is the entire scoop for your reference - Adaptive Authentication
Don't just take our word for it, try it out yourself with a free trial account
Why put off till tomorrow what you can start today? Get a head start on a more secure, productive, and efficient future with miniOrange - in just 5 minutes!
Click here to create your free account today.
Need quick assistance with configuration? Reach out to us at idpsuport@xecurify.com & we will get back to you in no time.
More Resources