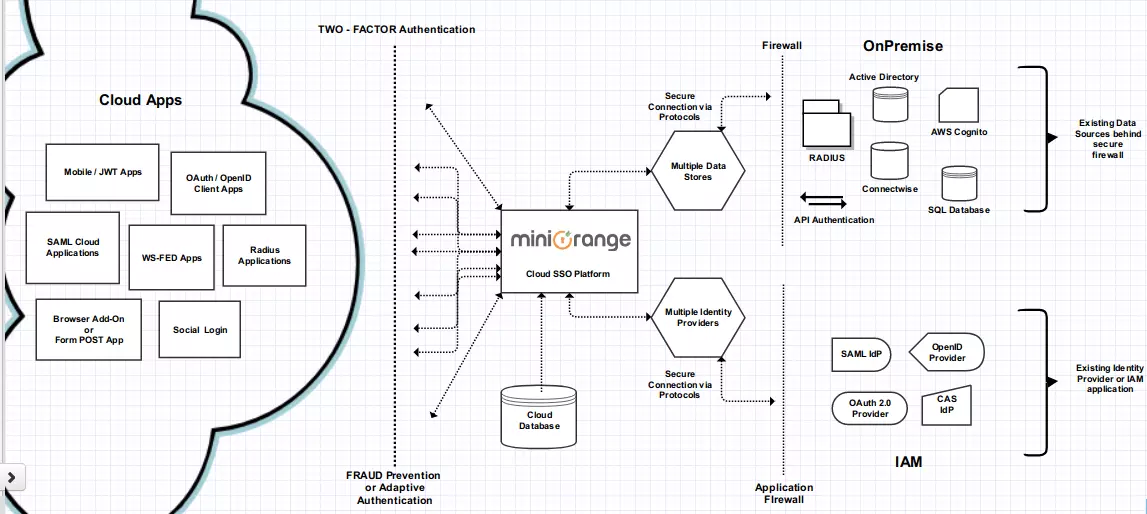 miniOrange cloud is hosted on AWS US East (N. Virginia), Europe (Ireland), and Australia data centers behind load balancers with multiple availability zones to ensure 99.95% uptime.
Instances are added to auto-scaling groups, which allow for scale up and down as per the current load. This leads to high performance and uptime of the service.
Amazon Relational Database Service (RDS) is used for persistent database storage. The system is fault-tolerant and is replicated as well as has configured automatic backups, which can be used to get the service back up in case of a failure event.
The system utilizes AWS Elasticache as the caching service and has Memcached to have speedier access to data and improved performance.
Amazon DynamoDB is used for session storage and management.
The system uses Amazon S3 for file storage. Appropriate access rules are in place so as to ensure secure access to the private file storage.
AWS Simple Email Service (SES) is used as the primary email provider for sending notification and transactional emails.
Amazon Simple Notification Service (SNS) is used for internal notifications about the health and performance of the service. Notifications have been set up on different metrics to determine the health of the service and the team is notified in case of an anomaly or status check failure. This allows for the smooth running of the service and high uptime.
AWS Web Application Firewall is set up for the prevention of DoS and DDoS attacks as well as anomalous access to internal components and services.
Regular snapshots of the server environment are taken regularly and databases are backed up on a daily basis. This allows for speedy recovery in case of any sort of failure.
Amazon S3 has been used for storing backups and static contents.
Want To Schedule A Demo?