Why Multifactor Authentication Solutions?
Multifactor Authentication (MFA) Solutions are one of the crucial aspects of today's cybersecurity landscape. As multifactor authentication has become increasingly mandatory, companies across industries are looking for comprehensive solutions to secure their applications, systems, and services. miniOrange's security solutions can be easily utilized by every company to protect their assets. We offer a detailed overview of multifactor authentication solutions to help companies determine what they should protect with MFA. Whether your requirement is for multifactor authentication solution in a particular application, VPN, Microsoft product, or industry-specific use case, we have the perfect solution for you.

A robust and reliable Multifactor Authentication solution can always be utilized to secure routers, switches, and firewalls. MFA solution can also be easily integrated with Windows, Linux, and Mac, and supports a range of authentication protocols such as SAML, Radius, Open ID, and JWT, making it compatible with various cloud-based, on-premises applications and also be integrated with custom applications and Active Directory, providing an extra layer of security to prevent unauthorized access to sensitive data.
A collection of 15+ different MFA methods , such as OTP over phone call, SMS and email verification, push notifications, etc. enables users to choose the authentication method that works best for their organization.
MFA Solutions supported by miniOrange

I can't speak highly enough regarding miniOrange, I am totally satisfied with the process and results in every regard.

Awesome tech service, Awesome product. Overall Awesome people. This solution is very simple and easy to implement
Want To Schedule A Demo?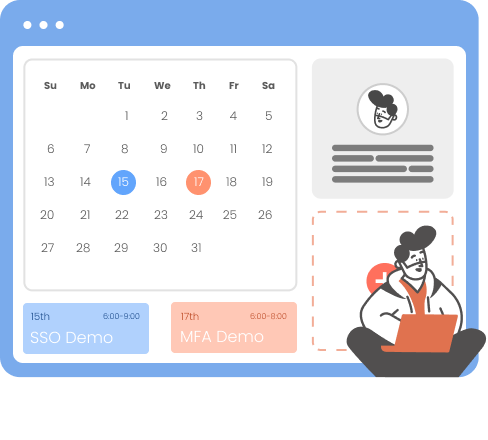 Our Other Identity & Access Management Products