miniOrange provides secure access to Moodle for enterprises and full control over access of applications, Single Sign On (SSO) into Moodle with one set of login credentials.

miniOrange SAML Single Sign on (SSO) plugin acts as a SAML Service Provider which can be configured to establish the trust between the plugin and a SAML capable Identity Providers to securely authenticate the user to the Moodle site.

If you want Moodle to acts as a SAML Identity Provider and single sign on into various SAML supported Service Providers to securely authenticate the user using the Moodle site then you need to use Moodle as IDP plugin.
Plans for everyone:
* These prices are for 1 instance only. Check out our pricing page for full details.
Moodle Single Sign On addon:
SAML Single Sign On (SSO) for Moodle allows users sign in to Moodle Server with your SAML 2.0 capable Identity Provider. We support all known IdPs - miniOrange, Google Apps, ADFS, Okta, OneLogin, Azure AD, Salesforce, Shibboleth, SimpleSAMLphp, OpenAM, Centrify, Ping, RSA, IBM, Oracle, Bitium, WSO2, NetIQ etc.SAML Single Sign on (SSO) acts as a SAML 2.0 Service Provider and securely authenticate users with your SAML 2.0 Identity Provider.


Features of Moodle / Moodle Single Sign On addon:
Auto-create users in Moodle / Moodle [free]
Assign default role to Auto-created users [free]
Login button on the Login page [free]
Auto-Redirect to IdP [premium]
Advanced Attribute Mapping [premium]
Advanced Role Mapping [premium]
Select Binding Type [premium]
Support for Multiple SAML IDPs* [premium]
Datacenter support [premium]
Follow the Step-by-Step Guide given below for Moodle Single Sign On (SSO) using SAML
Step 1: Download the plugin from moodle plugins directory and Install it in Moodle
Login as administrator in Moodle.
Go to Site Administration >> Plugins >> Install plugins.
Install the plugin from downloaded ZIP package or from Moodle Plugins Directory.
After Installation Go to Site Administration >> Plugins >> Plugins overview.
Then Select Additional plugins tab
To Configure miniOrange SAML 2.0 SSO plugin, Click on Settings link of Actions column




Before configuration, Register the plugin with miniOrange.




Step 2: Configuring the plugin
Using IdP information user could add details in Configure SP.
Provide the required settings (i.e. IdP Entity ID, IdP Single SignOn Service Url, X.509 certificate) in the plugin and save it.

For Example:


| | |
| --- | --- |
| IdP Entity Id | https://login.xecurify.com/moas |
| Single Sign On URL | https://login.xecurify.com/moas/idp/samlsso |
| Single Logout URL | https://login.xecurify.com/moas/idp/samllogout |
| Identity Provider Certificate | Upload the certificate downloaded from miniOrange Admin Console |







Step 3: Click on the Test Configuration button and the User Details would be fetched
The below screenshot shows the successful result.
This screenshot shows the attributes that are received and are mapped by attribute mapping.






Step 4:Go to Attribute/Role Mapping Tab And fill in all the fields.
Attribute Mapping :

Attribute Mapping is used by the Identity Provider(IdP) and the Moodle group(SP) to map user information from IdP to SP.
Attribute Mapping helps you to get user attributes from your IdP and map them to Moodle user attributes.
Attributes received in successful Test configuration are used for Attribute Mapping.
In Attribute Mapping details like username and NameID as shown in step 3 of Test Successful are mapped to Username and Email respectively.
While auto registering the users in your Moodle group these attributes will automatically get mapped to your Moodle user details.

Role Mapping :

Moodle plugin assigns roles to groups which are mapped against those groups.
Moodle uses a concept of Groups, designed to give the site owner the ability to control what groups can and cannot do within the site.
In Role Attribute enter the Attribute Name given against role value of Test Configuration for the user.
Role mapping helps you to assign specific roles to users of a Moodle group from your IdP.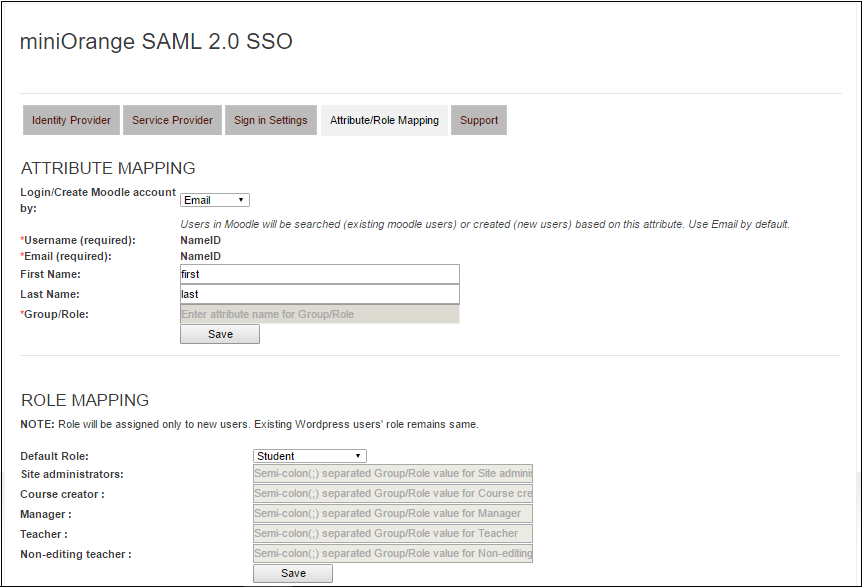 Step 5:SSO Sign In Settings
There are different ways to login to your Atlassian Moodle Website