Odoo Single Sign-On (SSO)
---
Odoo is a powerful all in one mangement software, offering a range of business applications. It offers both community open source and enterprise versions with tools like including CRM, website/e-commerce, billing, accounting, manufacturing, warehouse - and project management, and inventory. Bussinesses can use this to manage their businesses and provide customized solutions to it's users.
Challenge faced by Odoo Users
If a user is logged into his site then he shouldn't have to log in a second time to access services/resources on Odoo. A Single Sign-On solution is required to allow users to be able to seamlessly move between their website and Odoo without the hasle of maintaing separate credentials. This allows admins to embedd Odoo views on their site to give a unified experience to their users and customers.
miniOrange provides SSO solution for Odoo
miniOrange provides Single Sign On solution to login to Odoo from your existing website using connectors or plugins. miniOrange supports JWT/OAuth/OpenID standard which is used to securely authenticate the user to login into applications like Odoo. A custom OAuth connector for Odoo enables SSO with any existing website.
Video Setup Guide
Connect with External Source of Users
miniOrange provides user authentication from various external sources, which can be Directories (like ADFS, Microsoft Active Directory, Azure AD, OpenLDAP, Google, AWS Cognito etc), Identity Providers (like Shibboleth, Ping, Okta, OneLogin, KeyCloak), Databases (like MySQL, Maria DB, PostgreSQL) and many more.
Follow the Step-by-Step Guide given below for Odoo Single Sign-On (SSO)
1. Configure Odoo in miniOrange
Click here to log in to your miniOrange Admin Dashboard.
Go to Apps >> Manage Apps from the left hand side menu and click on the Configure Apps button.



Select External/JWT/PwdLess Tab and click on External App/ Jwt App as shown below



Enter the values as mentioned below

| Attribute | Description |
| --- | --- |
| Custom Application name: | Choose appropriate name according to your choice. |
| Description: | Description of your choice |
| Redirect URL: | <base-odoo-url>/auth_oauth/signin |




Click on the Edit option of the newly configured app to pick your Client ID.



Click on Settings and keep your customer-id handy for the next couple of steps.



2. Configure Your User Directory
Log in to miniOrange Admin Console.
From the left side menu, click on User Stores >> Add User Store.



Select User Store type as AD/LDAP.



STORE LDAP CONFIGURATION IN MINIORANGE: Choose this option if you want to keep your configuration in miniOrange. If active directory is behind a firewall, you will need to open the firewall to allow incoming requests to your AD.
STORE LDAP CONFIGURATION ON PREMISE: Choose this option if you want to keep your configuration in your premise and only allow access to AD inside premises. You will have to download and install miniOrange gateway in your premise.



Enter LDAP Display Name and LDAP Identifier name.
Select Directory Type as Active Directory.
Enter the LDAP Server URL or IP Address against LDAP Server URL field.
Click on Test Connection button to verify if you have made a successful connection with your LDAP server.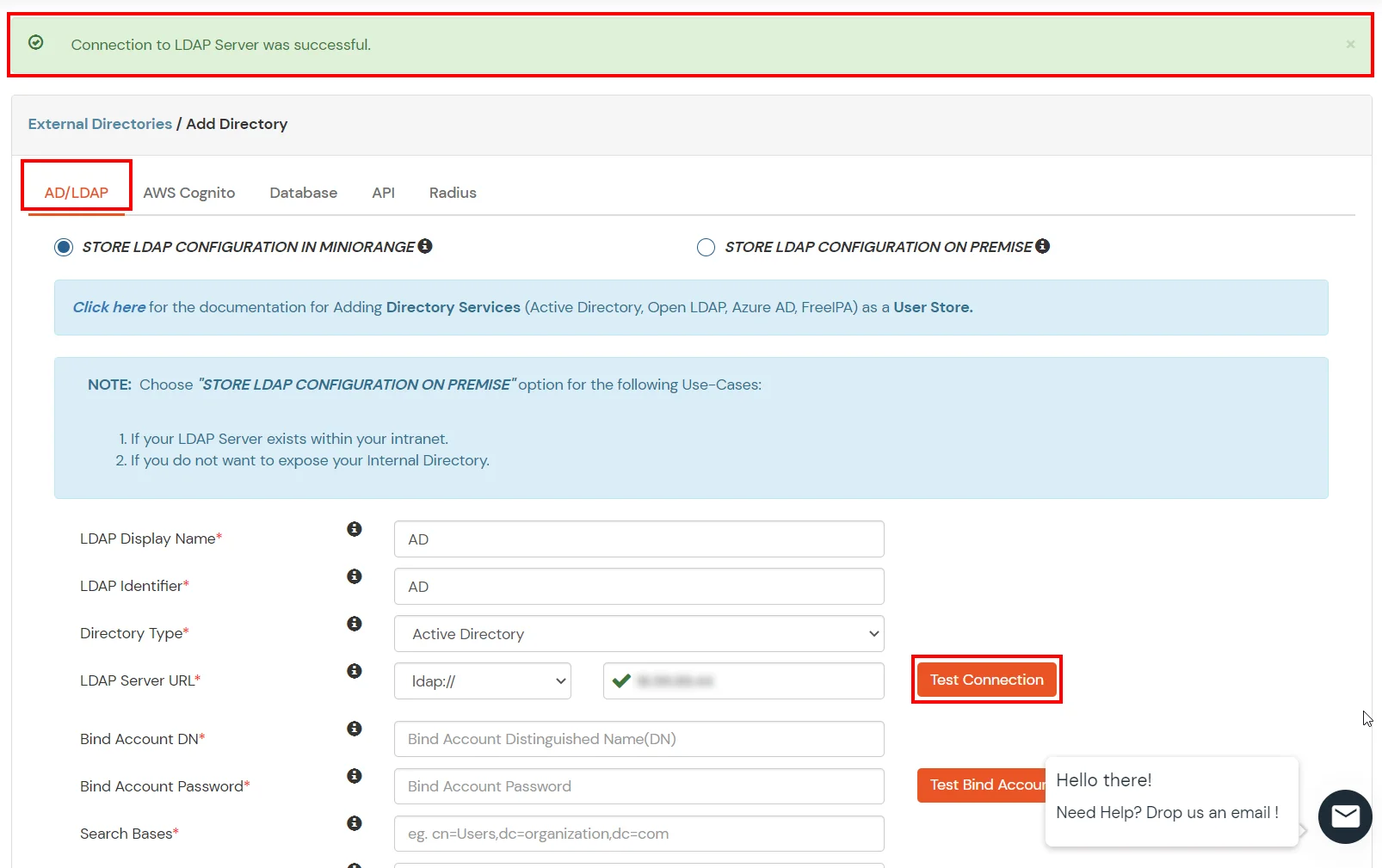 In Active Directory, go to the properties of user containers/OU's and search for Distinguished Name attribute.

Enter the valid Bind account Password.
Click on Test Bind Account Credentials button to verify your LDAP Bind credentials for LDAP connection.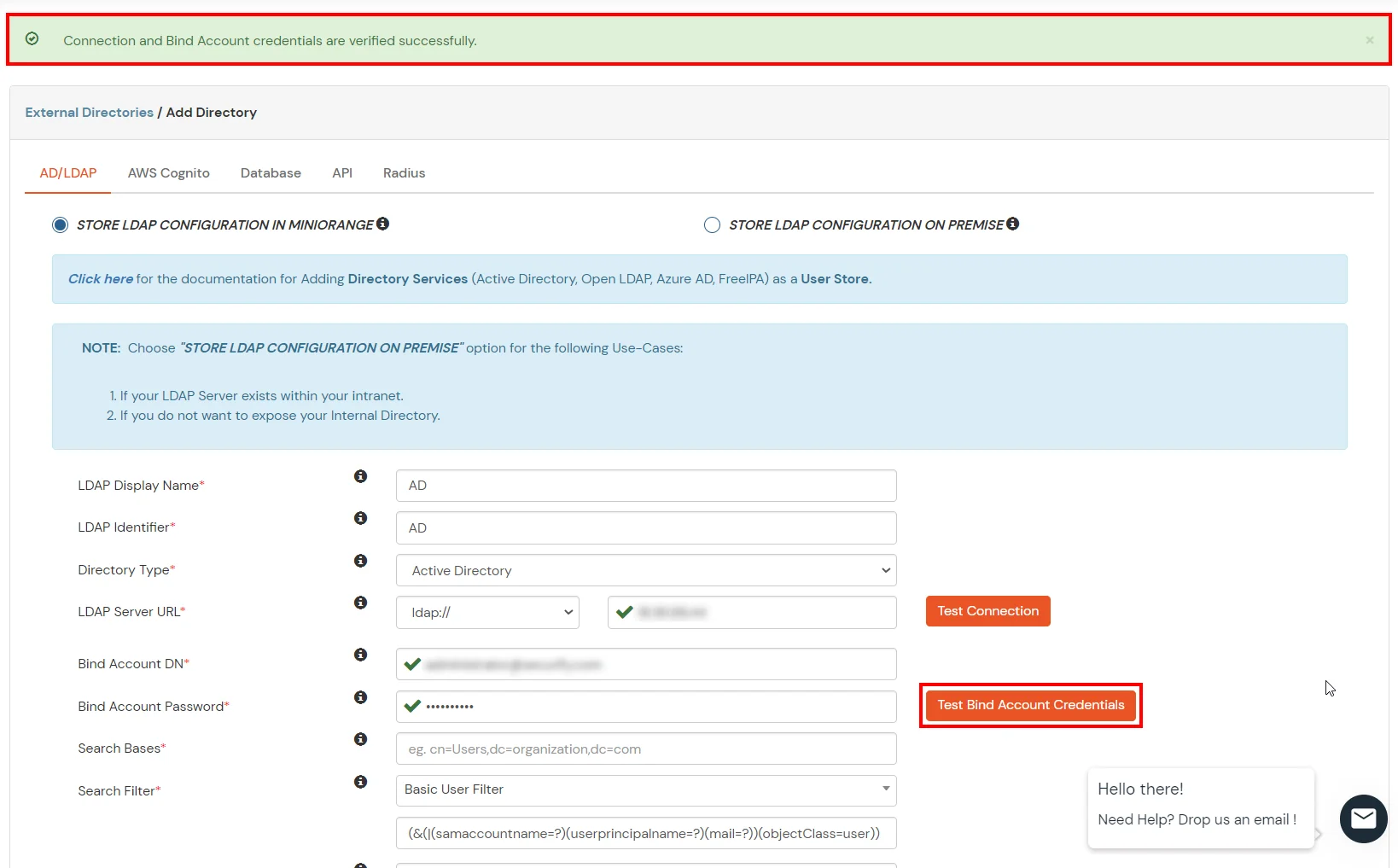 Search Base is the location in the directory where the search for a user begins. You will get this from the same place you got your Distinguished name.

Select a suitable Search filter from the drop down menu. To use custom Search Filter select "Custom Search Filter" option and customize it accordingly.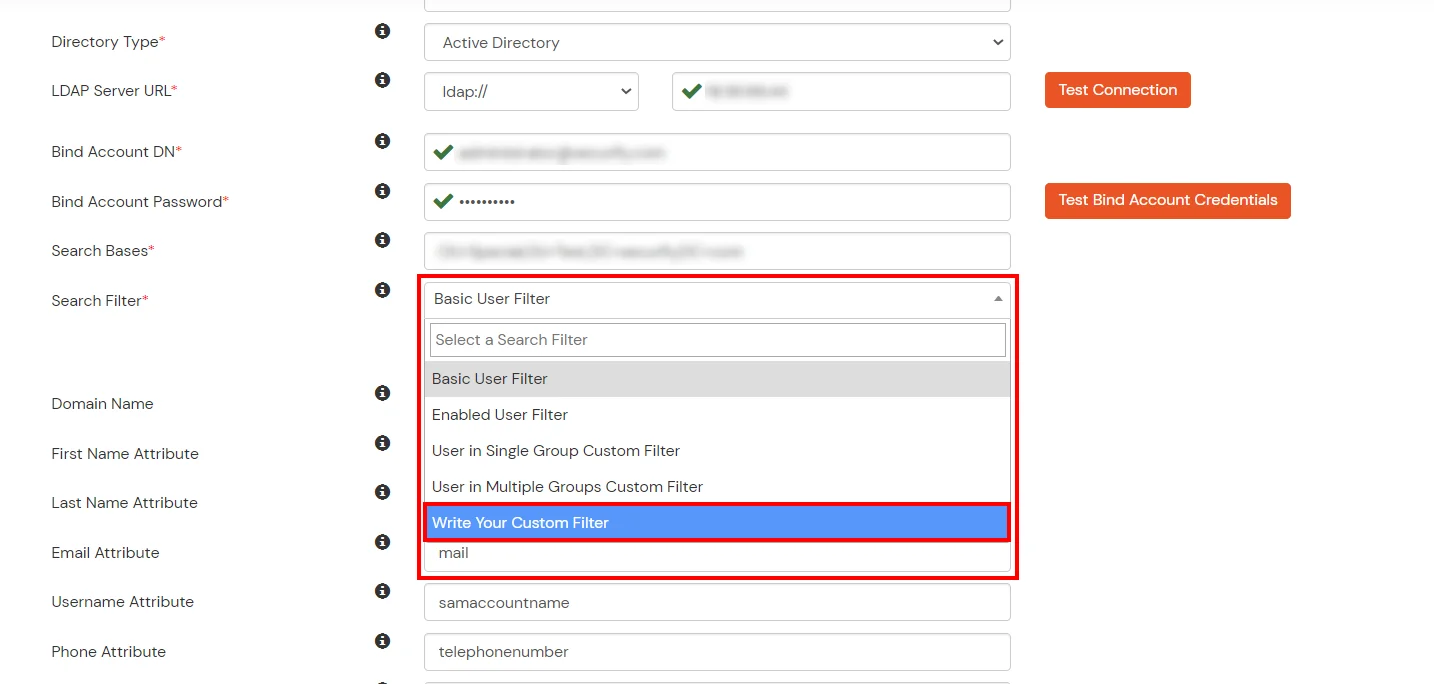 You can also configure following options while setting up AD. Enable Activate LDAP in order to authenticate users from AD/LDAP. Click on the Save button to add user store.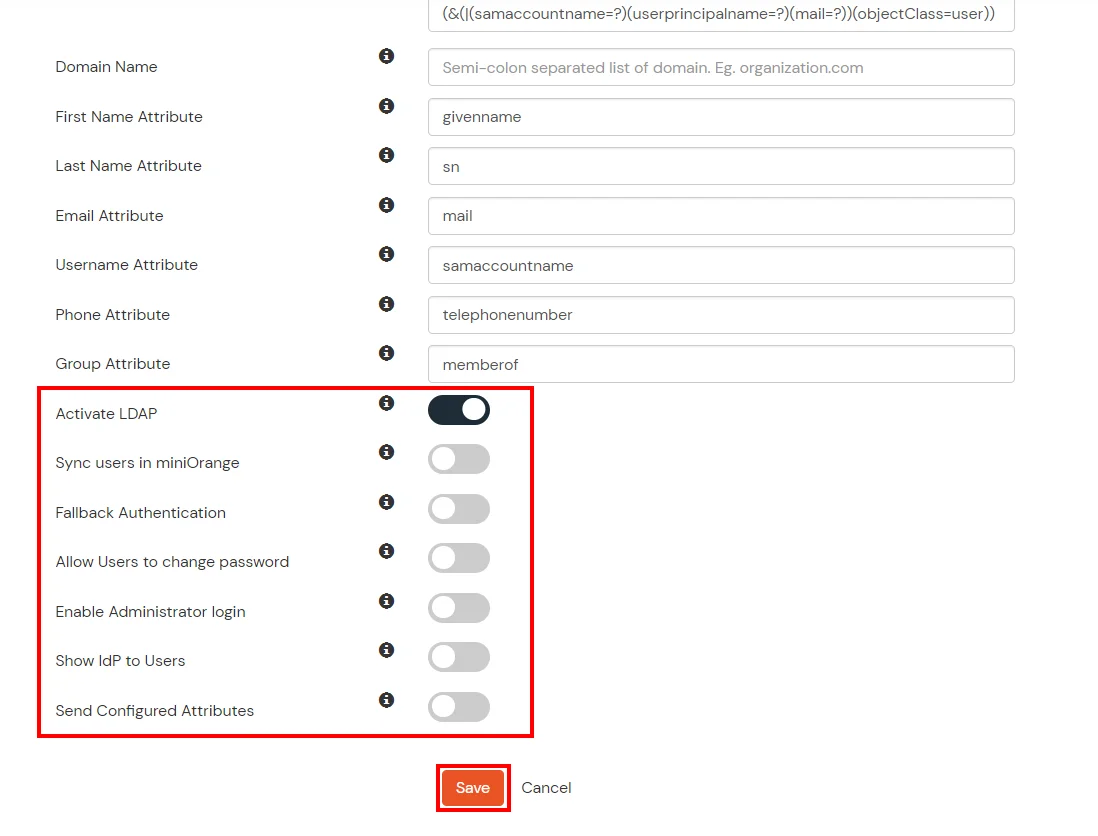 Here's the list of the attributes and what it does when we enable it. You can enable/disable accordingly.
| Attribute | Description |
| --- | --- |
| Activate LDAP | All user authentications will be done with LDAP credentials if you Activate it |
| Sync users in miniOrange | Users will be created in miniOrange after authentication with LDAP |
| Backup Authentication | If LDAP credentials fail then user will be authenticated through miniOrange |
| Allow users to change password | This allows your users to change their password. It updates the new credentials in your LDAP server |
| Enable administrator login | On enabling this, your miniOrange Administrator login authenticates using your LDAP server |
| Show IdP to users | If you enable this option, this IdP will be visible to users |
| Send Configured Attributes | If you enable this option, then only the attributes configured below will be sent in attributes at the time of login |
Click on Save. After this, it will show you the list of User stores. Click on Test Configuration to check whether you have enter valid details. For that, it will ask for username and password.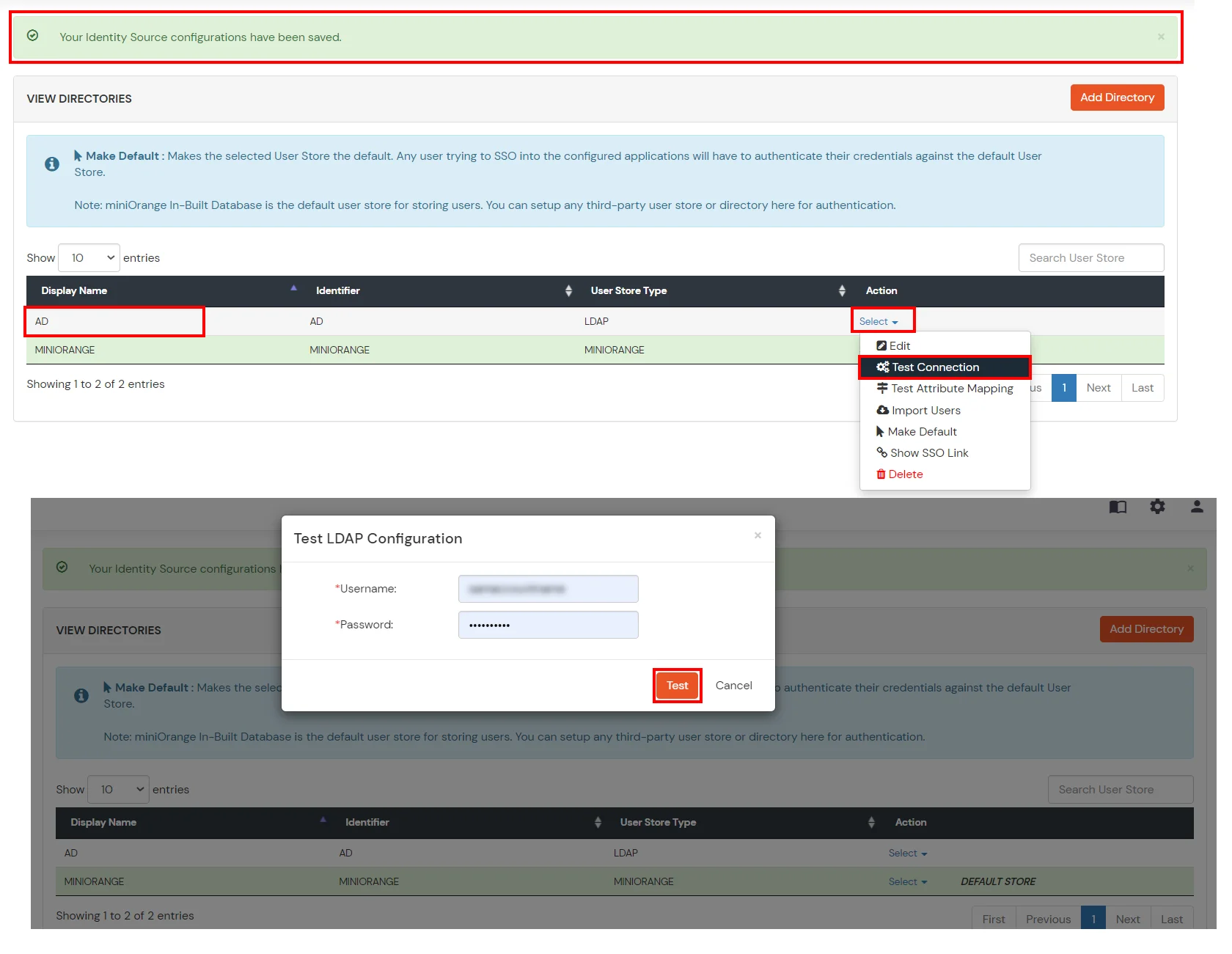 On Successful connection with LDAP Server, a success message is shown.
Click on Test Attribute Mapping.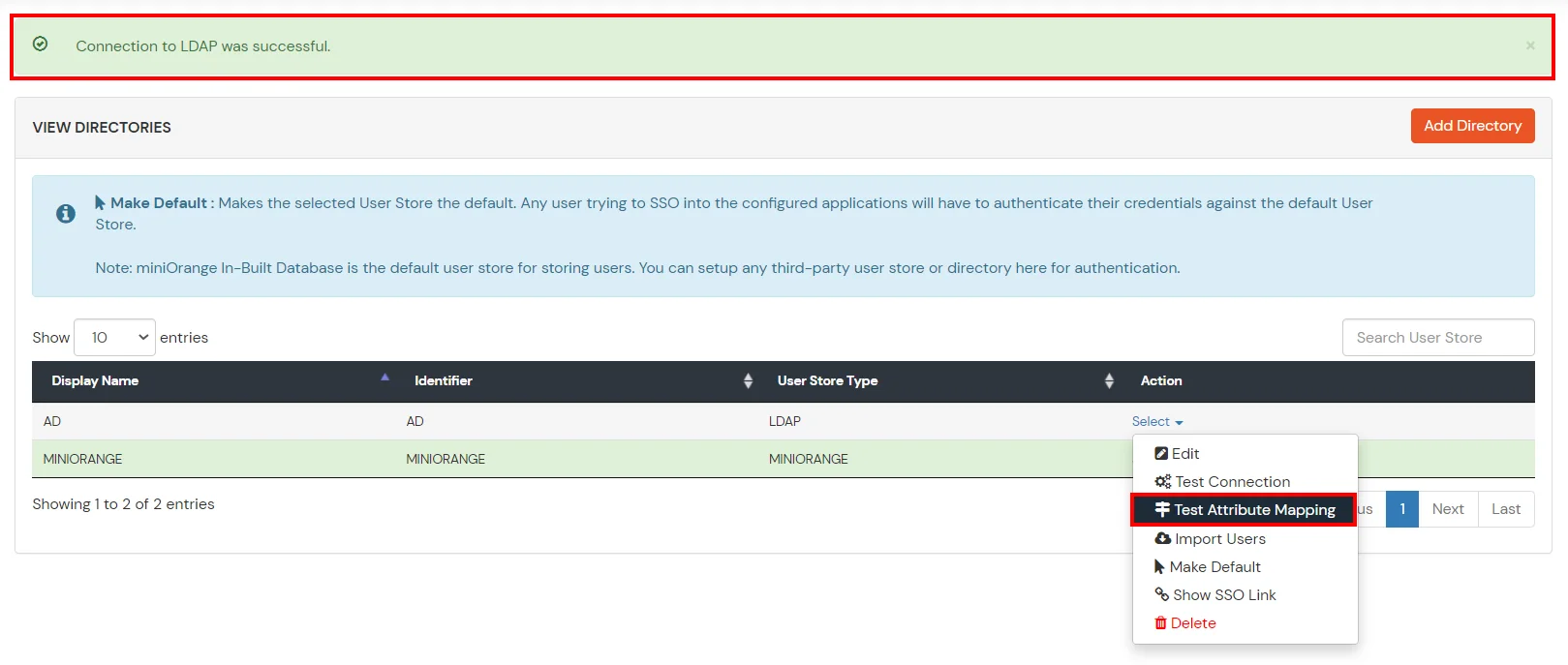 Enter a valid Username. Then, click on Test. Mapped Attributes corresponding to the user are fetched.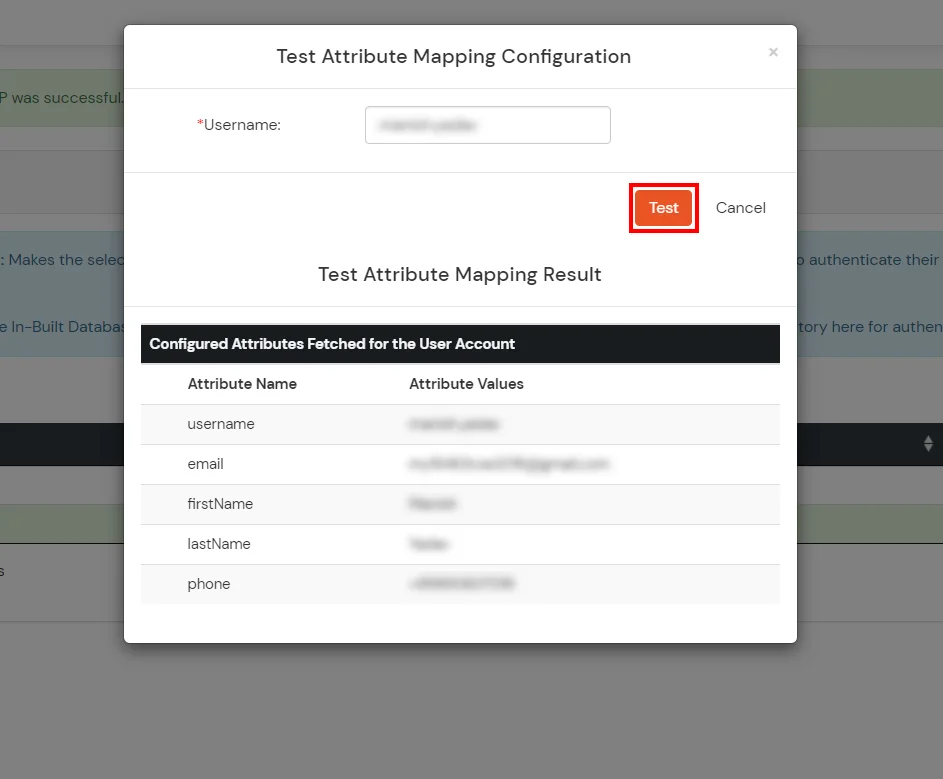 After successful Attribute Mapping Configuration, go back to the ldap configuration and enable Activate LDAP in order to authenticate users from AD/LDAP.
Refer our guide to setup LDAPS on windows server.
Log in to miniOrange Admin Console.
Go to Userstore >> Add Userstore.



Select Userstore type as miniOrange and click on Add miniOrange Identity Source.



Once done with adding Identity Source, make it default by clicking on Select against the recently added miniOrange Identity Source.



There are 3 ways to add users in miniOrange:

1. Create User in miniOrange

Click on Users >> Add User.



Here, fill the user details without the password and then click on the Create User button.



After successful user creation a notification message "An end user is added successfully" will be displayed at the top of the dashboard.



Click on On Boarding Status tab. Check the email, with the registered e-mail id and select action Send Activation Mail with Password Reset Link from Select Action dropdown list and then click on Apply button.



Now, Open your email id. Open the mail you get from miniOrange and then click on the link to set your account password.
On the next screen, enter the password and confirm password and then click on the Single Sign-On (SSO) reset password button.


Now, you can log in into miniOrange account by entering your credentials.

2. Bulk Upload Users in miniOrange via Uploading CSV File.

Navigate to Users >> User List. Click on Add User button.



In Bulk User Registration Download sample csv format from our console and edit this csv file according to the instructions.



To bulk upload users, choose the file make sure it is in comma separated .csv file format then click on Upload.



After uploading the csv file successfully, you will see a success message with a link.
Click on that link you will see list of users to send activation mail. Select users to send activation mail and click on Send Activation Mail. An activation mail will be sent to the selected users.

3. Self User Registration

miniOrange self user registration allows end users to register themselves using customized registration form. miniOrange admin users can customize the registration form by adding more custom fields according to their choice. Follow the miniOrange guide to customize user self registration page.
3. Setup SSO in Odoo Admin Account
Log in to your Odoo Dashboard as Admin.
Go to Developer Mode from Settings menu. You can follow the steps here to go into developer mode as well.
Go to App section and search for OAuth module.



Make sure that the Module is activated and installed. Install our customized module on top of this and upgrade the existing module.
Note: You will need our customized version of this module to get few features and SSO working.
While in Developer mode go to Odoo Settings and select OAuth Providers from the menu.



In OAuth Provider settings click on the Create button and enter the following values

| Attribute | Description |
| --- | --- |
| Provider name: | Choose appropriate name according to your choice. |
| Client Id: | Value Picked up from miniOrange dashboard above. |
| Allowed: | Checked |
| Default: | Checked if you are using embedded views. |
| Body: | Value can be anything of your choice. |
| Authentication URL: | https://login.xecurify.com/moas/broker/login/jwt/<customer-id> |
| Valdation URL: | https://login.xecurify.com/moas/rest/oauth/verifyToken |



Embedded views :
If you enable the Default Option in the OAuth Settings and are not able to log into Odoo then use the following link to bypass SSO and log in using username and password instead:


<base-odoo-url>/web/login?sso=false



The embedded URL would look something like the following:


<base-odoo-url>/web/login?redirect=<odoo-url>