Enable Two-Factor Authentication (2FA) for your VPN managed active directory to increase security level
Step 1: Add the Radius Client in miniOrange
Login into the Admin Dashboard.
Click on Apps >> Manage Apps.
Click on Configure Apps.



Select Radius tab and select Radius Client.



Configure details below to add Radius Client.

Client Name:
Any name for your reference
Client IP:
IP address of VPN server which will send Radius authentication request
Shared Secret:
Security key.
For Eg. "sharedsecret"
(Keep this with you, you will need to configure same on VPN Server )
Do not Support Challenge:
Keep this Unchecked

Click on Save.




NOTE: For On-Premise version follow the below steps before testing the connectivity.



Only For On-Premise Version

By Default, the RADIUS Server does not get started with Tomcat.
Open the WEB.xml file from your miniOrange repository .....\mo-idp-server-3.3.0\moas\WEB_INF\web.xml
Search for RadiusServerInit.



Uncomment the commented RadiusServerInit Servlet.
Keep the port 1812 open for using RADIUS Service.
Save and Restart Tomcat.
Step 2: Setup Active Directory as an Authentication Source
Select User Stores then click on Add User Store.



Select "AD/LDAP" tab and configure it with your LDAP settings.




| Field | Value |
| --- | --- |
| Directory Type: | Active Directory. |
| LDAP Server URL: | Select an appropriate prefiller followed by your AD server URL or IP address |
| Bind Account DN: | UserPrincipalName/distinguishedName of the account eligible for binding operation. |
| Bind Account Password: | Password for the account used for binding |
| Search Bases: | Provide distinguished name of the Search Base object Eg:cn=User,dc=domain,dc=com |
| Search Filter: | Search filters enable you to define search criteria and provide a more efficient and effective searches. Eg: "(&(objectClass=*)(cn=?))" |



Enable "Active LDAP" and "Sync user in miniOrange" option and click on save.



Here's the list of the attributes and what it does when we enable it. You can enable/disable accordingly.

| Attribute | Description |
| --- | --- |
| Activate LDAP | All user authentications will be done with LDAP credentials if you Activate it |
| Sync users in miniOrange | Users will be created in miniOrange after authentication with LDAP |
| Backup Authentication | If LDAP credentials fail then user will be authenticated through miniOrange |
| Allow users to change password | This allows your users to change their password. It updates the new credentials in your LDAP server |
| Enable administrator login | On enabling this, your miniOrange Administrator login authenticates using your LDAP server |
| Show IdP to users | If you enable this option, this IdP will be visible to users |
| Send Configured Attributes | If you enable this option, then only the attributes configured below will be sent in attributes at the time of login |



Click on Test Configuration to check whether your LDAP configuration details are right and LDAP server is reachable. It will ask for test username & password from LDAP directory.



After this, it will show you the list of User stores. Click on " Make Default ".



Step 3: Setup miniOrange as Identity Provider(Optional)
NOTE:
Follow these steps if you want to keep your users in
miniOrange
and
authenticate
against them.
Select User then click on Add User .





Configure the basic details for the End User.
Then Click on Create User.



You can view these users in UserList.



Step 4: Configure 2 Factor Authentication(2FA) for Admins:
From your Admin Dashboard in the left navigation bar, select 2- Factor Authentication, click on Configure 2FA.





Select a 2FA method for configuring.
Let's say you want to configire OTP over SMS
Click on OTP over SMS in Configure 2FA tab.





Now add your mobile number on which you want to receive the OTP.
Then click on Save.





Reconfigure tab in green represents the currently Active 2FA method.
Click on Prompt for second factor during signin to your console.
Then click on Save.



Similarly other 2FA methods can be configured. Click Here for the Guide
Step 5: Setup 2FA Policy for End User.
Click on Policies tab >> App Authentication Policy.



Click on Add Policy tab.
In Step 1 Select the RADIUS App that we configured earlier.
In Step 2 Select "DEFAULT" in Group Name and enter Policy name as "&ltAny Name&gt" and Select First factor as "PASSWORD".
Enable Second Factor then click on Save.



Admin can change the second factor of the End user from the User List



Under Action Click on Select and then select Reset Second Factor
Step 6: Configure Pulse Secure Connect client with miniOrange RADIUS server
Login to Connect Secure administration console.
Select Authentication > > AuthServers.
Select "RADIUS Server" from list then Click on "New Server".
Enter the details on New Radius Server page.
Enter the details of "Backup Server".
Click on "Save changes".
Step 7: Creating a new user Realms
Click on Users >> User Realms >> New User Realms.
Enter the details in New Authentication Realm form.
Click on Save changes.
Step 8: Creating the Private portal
Click on "New URL".
Enter the path of your authentication portal.
Check the "User picks" from "list of authentication realms".
Select Realm of your users.
Click on "Save Changes".
Step 9: Login Pulse Secure VPN Software
Login to Pulse Secure Client .
Enter your NetID and NetID password.



Check your downloads folder and double-click on Pulse Secure Installer file.
Follow the steps in the installer. Enter your computer's Administrator name and password, while installation.
Step 10: Connect to VPN
For Windows 7: Click on Start >> All Programs > >Juniper Networks > >Pulse Secure.
For Windows 8: Click on Start screen >> Pulse Secure.
Enter Username and password and click on login.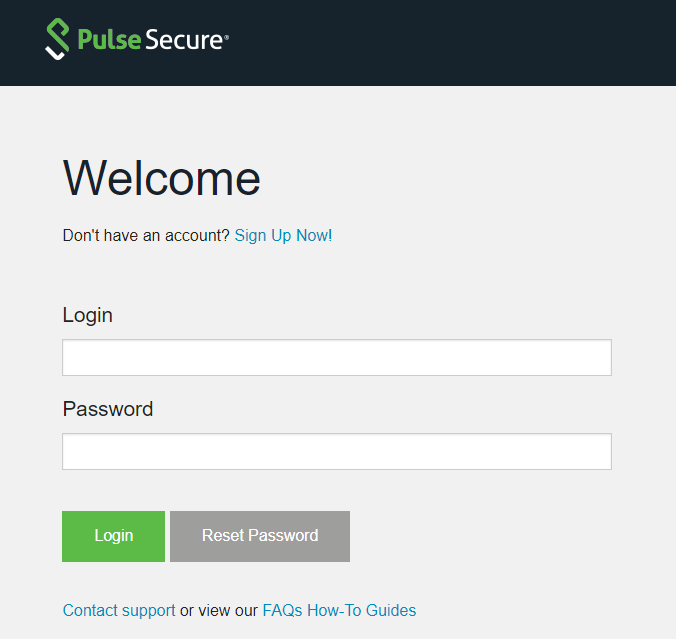 It will prompt you for 2 Factor code if you have enabled 2-factor authentication in miniOrange policy.
Enter your 2-Factor code and you should be connected to VPN.
Click Connect.
Step 11: Disconnect VPN
To disconnection session Click on Disconnect.
For Further Details:
Two Factor authentication
Pulse Secure Connect
https://www.pulsesecure.net/resource/pulse-connect-secure-leading-ssl-vpn-solution-for-enterprises/
https://support.pulsesecure.net/support-and-maintenance-guides/remote-installation-guide/