miniOrange provides secure access to dinCloud for enterprises and full control over access of dinCloud application, Single Sign On (SSO) into your dinCloud Account with one set of login credentials.
Single Sign On

miniOrange Single Sign On (SSO) Solution provides easy and seamless access to all enterprise resources with one set of credentials. miniOrange provides Single Sign On (SSO) to any type of devices or applications whether they are in the cloud or on-premise.

Strong Authentication

Secure your dinCloud SP from password thefts using multi factor authentication methods with 15+ authentication types provided by miniOrange. Our multi factor authentication methods prevent unauthorized users from accessing information and resources having password alone as authentication factor. Enabling second factor authentication for Google Apps protects you against password thefts.

Fraud Prevention

miniOrange prevents frauds with its dynamic risk engine in conjunction with enterprise specific security policy. We support a combination of the Device Id, Location and Time of access as multi-factor authentication that can detect and block fraud in real-time, without any interaction with the user.
miniOrange supports both IdP (Identity Provider) and SP (Service Provider) initiated Single Sign On (SSO)
Follow the Step-by-Step Guide given below for dinCloud SP Single Sign On (SSO).
Step 1: Configure Single Sign On (SSO) Settings in dinCloud
Login to miniOrange Admin Console, go to Apps Tab from the menu and click Configure Apps.
Select the Application Name SimpleSAML from the drop-down menu.



Leave the Attributes section empty.
Click on Save to configure dinCloud.
Click on Download Certificate link to download the certificate which will be required later.



Step 2: Create a policy for dinCloud
Login to miniOrange Admin Console, go to Policies Tab from the menu and select App Authentication Policy.
Add a new policy for dinCloud.
Select SimpleSAML from Application dropdown.
Select a Group Name from dropdown - the group for which you want to add SimpleSAML policy.
Give a policy name for SimpleSAML in Policy Name field.
Select the First Factor Type for authentication.
Enable Second Factor for authentication if required.
Click on Save button to add policy for dinCloud Single Sign On (SSO).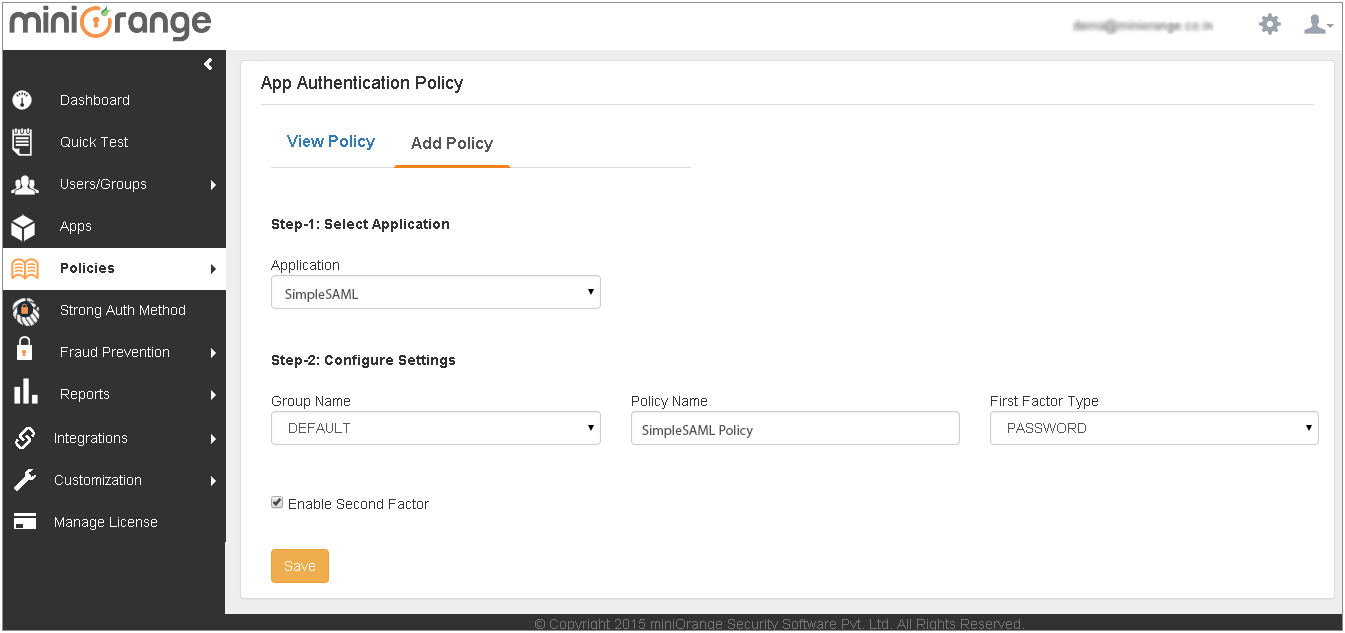 Step 3: Setup Single Sign On for your domain in dinCloud
For setting up Single Sign On for your domain navigate to (https://stagingsp.dinssolab.com/idpconfig/attributes )



Click on Add IdP Configuration



Enter IdP Name as miniOrange IdP
Enter appropriate Description
Enter Domain Name
Enter Sign-In Page URL (URL for signing in to dinCloud SP):

https://login.xecurify.com/moas/idp/samlsso

Enter Sign-Out Page URL (URL to redirect users to when they sign out):

http://mail.google.com/a/[domain_name]

Upload the certificate, you downloaded earlier.
Enter Certificate Fingerprint as 7360EBC7992A1333274F1DE6F51A742999A53EB0
Set Protocol Binding as REDIRECT
Now click on SAVE CHANGES to save the changes made above.



Step 4: Now Sign In to dinCloud SP with miniOrange Idp by navigating to https://stagingsp.dinssolab.com.