What is Adobe Captivate Prime?
Adobe Captivate Prime is a Learning Management System that allows users to set up, deliver and track learners (internal or external) with relative ease. Users can use it to design learning courses and programmes to fill skill gaps and meet business requirements. It focuses on interactivity and gamification of the system to make learning more engaging and fun and meet learning goals faster.
Challenge
Organizations and Companies usually have their own Identity Provider or Data Source for managing users. If a user or employee is already logged into their Identity Provider then he shouldn't have to log in a second time to access services/resources/courses on Adobe Captivate Prime. A Single Sign-On solution is required to allow users to be able to seamlessly move between their existing application and Adobe Captivate Prime without the hassle of maintaining separate credentials. This would allow administrators to provide a seamless learning experience to their users and employees.
Our solution
miniOrange provides Single Sign On (SSO) solution to login to Adobe Captivate Prime using your existing Data Store or Identity Provider or miniOrange as your Primary Identity Source.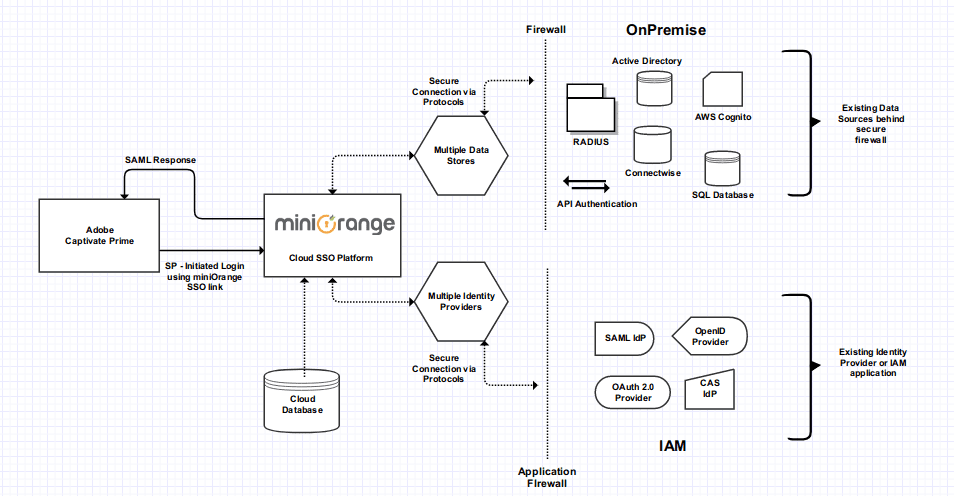 miniOrange supports both IdP (Identity Provider) and SP (Service Provider) initiated Single Sign-On (SSO)
Step by Step Guide to setup SSO with Adobe Captivate Prime
Step 1: Configure miniOrange Settings for Adobe Captivate Prime.
Login as a customer from Admin Console.
Go to Apps >> Manage Apps . Click Configure Apps button.
Click on SAML tab. Select Custom App Put the name Captivate Prime and click Add App button.
Make sure the SP Entity ID or https://captivateprime.adobe.com
Make sure the ACS URL is in the format: https://captivateprime.adobe.com/saml/SSO.
Select the Email ID from the Name ID dropdown.
Leave the Attributes section empty.
Leave the Attributes section empty.



Go to the Add Policy and select DEFAULT from the Group Name dropdown
Now enter the Captivate Prime Policy in the Policy Name field
Select PASSWORD from the First Factor Type dropdown
Click on Save to configure Captivate Prime.



Click on Download Metadata link to download the metadata which will be required later. Click on Link to see the IDP initiated SSO link for Captivate Prime



Hit on the Download Metadata XML button to download the metadata.xml file.


Step 2: Configure Adobe Captivate Prime setting for miniOrange.
Login to your Adobe Captivate Prime using Admin login credentials.



Open Settings >> Login Methods.



Choose Internal Users or External Users depending on your requirement.



Click the drop-down next to login option and select Single Sign-On.



To adjust Single Sign-On (SSO) Settings, click Change.



Enter IDP-initiated Authentication URL and upload your XML gathered from Step1.




Step 3: Now sign in to your Captivate Prime account with miniOrange IdP by either of the two steps:
1. Using SP initiated login :-

Go to https://captivateprime.adobe.com/domainname, click on Login. Now you will be redirected to miniOrange IdP Sign On Page.
You will automatically log in.

2. Using IdP initiated login :-

Login to your miniOrange Self Service Console as an End User and click on the Adobe Captivate Prime icon on your Dashboard.
For Further Details:
https://helpx.adobe.com/captivate-prime/administrators/feature-summary/user-login.html
https://helpx.adobe.com/enterprise/help/configure-sso.html