HTTP API with POST method is used to send data to a server to create/update a resource. The data sent to the server with POST is stored in the request body of the HTTP request and sent to SMS Gateway Server.
Eg: POST /rest.messagebird.com/api/messages
Host: localhost
name1=value1&name2=value2
A few examples of providers using the POST method include Alibaba, Plivo, and MessageBird.
To configure your SMS gateway using POST method, follow the steps below.
Select the Custom Gateway (POST Method) option in the SMS Gateways dropdown.
Configure the SMS Gateway using the following parameters.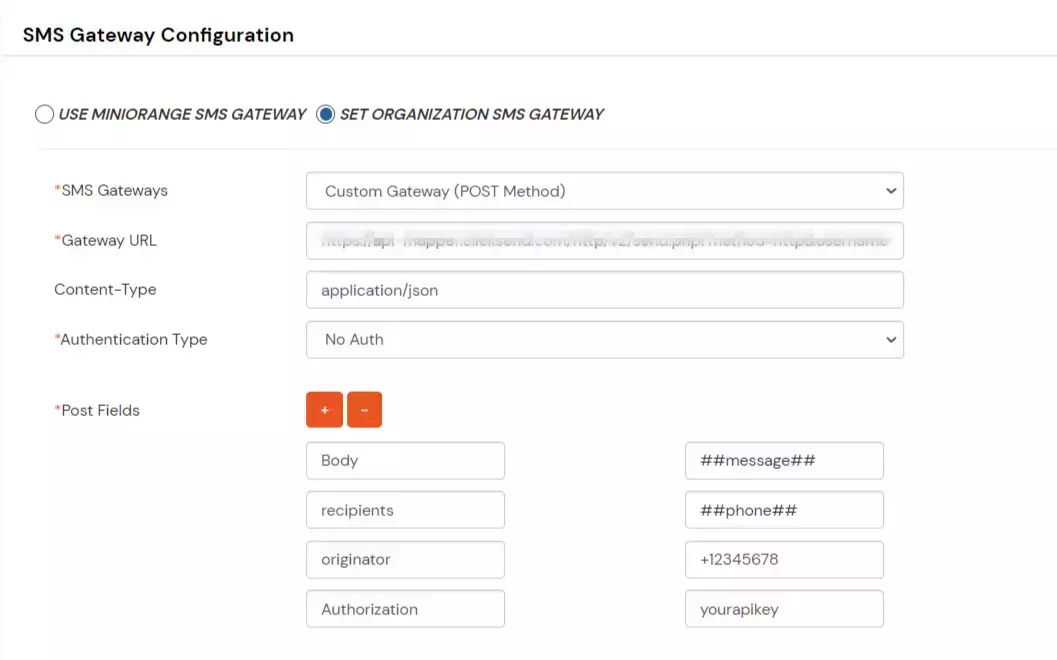 | Parameter | Description |
| --- | --- |
| URL | https://rest.messagebird.com/api/messages |
| Content-type | application/json , application/x-www-form-urlencoded |
| Authentication Type | No Auth |

For the Post Fields section, enter the following parameters.

| Parameter | Description |
| --- | --- |
| Gateway Parameter for SMS Body | ##message## |
| Gateway Parameter for Recipient's Phone Number | ##phone## |
| Gateway Parameter Key | Gateway Parameter Value |
For Basic Auth Authentication type, configure the SMS gateway using the following parameters: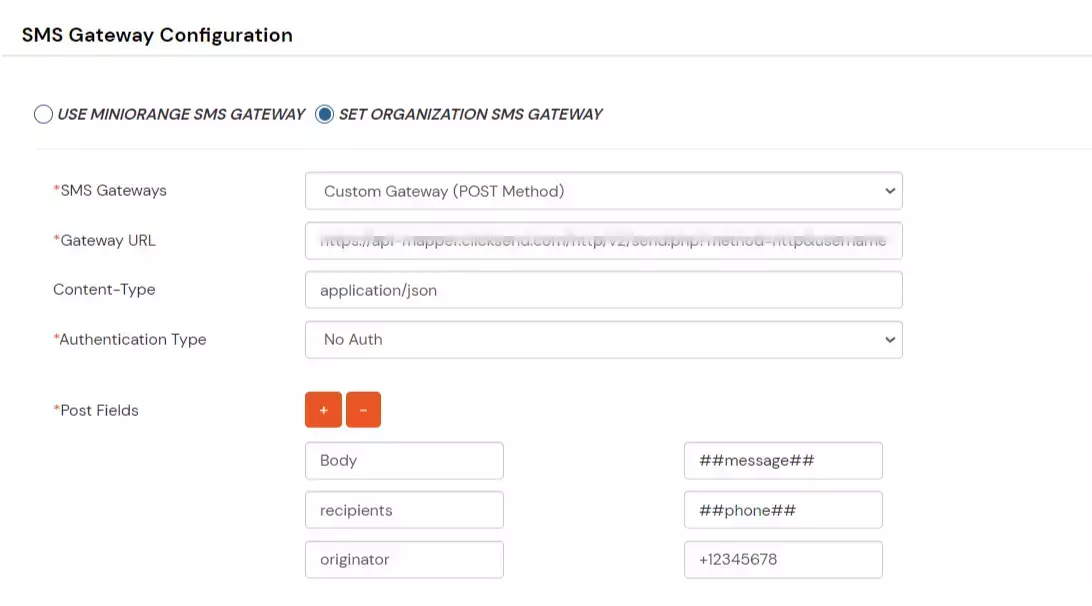 | Parameter | Description |
| --- | --- |
| URL | https://rest.messagebird.com/messages |
| Content-type | application/json , application/x-www-form-urlencoded |
| Authentication Type | Basic Auth |
| User Name | Enter your user name |
| Password | Enter a password |

For the Post Fields section, enter the following parameters.

| Parameter | Description |
| --- | --- |
| Gateway Parameter for SMS Body | ##message## |
| Gateway Parameter for Recipient's Phone Number | ##phone## |
| Gateway Parameter Key | Gateway Parameter Value |